Whole Foods Boosts Its Earnings Forecast After Cutting Jobs
by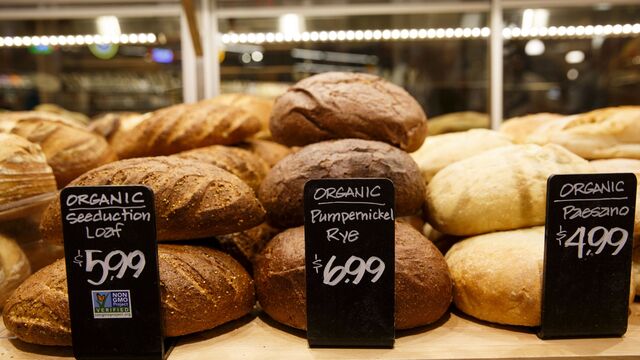 Whole Foods Market Inc. raised its annual earnings forecast after its cost-cutting efforts, which included eliminating jobs, helped boost results.
The Austin, Texas-based company now expects profit of at least $1.53 a share this year, excluding some items, according to a statement on Wednesday. Whole Foods had previously forecast $1.50.
The 436-store chain cited its improved cost structure and lower prices for helping boost results. Still, Whole Foods is struggling to keep customers from defecting to other chains, and its same-store sales fell 1.8 percent in the most recent quarter. To attract more shoppers, the company is rolling out smaller, value-focused stores this year called 365 by Whole Foods Market. It's also offering digital coupons within its mobile app, an attempt to appeal to younger, more technology savvy consumers.
"They did control expenses really well," said Joe Feldman, an analyst at Telsey Advisory Group in New York. "They talked about leveraging salaries and benefits and marketing costs."
The shares rose 0.2 percent to $28.93 in New York on Thursday, a day when the broader market tumbled. Last year, Whole Foods declined 34 percent, dragged down by concerns about slowing growth. The Standard & Poor's 500 Index slipped 0.7 percent in that time frame.
Paring Jobs
Whole Foods focused much of its cost cuts on labor and human resources. In November, Co-Chief Executive Officer John Mackey said the company had eliminated about 2,000 jobs. The chain also has committed to reducing expenses by $300 million by the end of fiscal 2017.
Net income was $157 million, or 46 cents a share, in the first quarter, which ended Jan. 17. That compared with $167 million, or 46 cents, a year earlier. Analysts had predicted 40 cents a share. Total sales rose 3.4 percent to $4.83 billion, also exceeding estimates.
Whole Foods reaffirmed its annual sales growth forecast. It expects a range of about $15.9 billion to $16.2 billion. Analysts have estimated $16 billion.
Still, hanging on to shoppers will be a challenge as more chains offer organic foods, Feldman said.
"You can buy some of this organic and natural stuff at traditional grocers," he said.
Before it's here, it's on the Bloomberg Terminal.
LEARN MORE