Yellen Financial Market Brooding Fails to Halt S&P 500's Slide
by and
Yellen says conditions turned less supportive of growth

Health-care rises for second day, commodity companies fall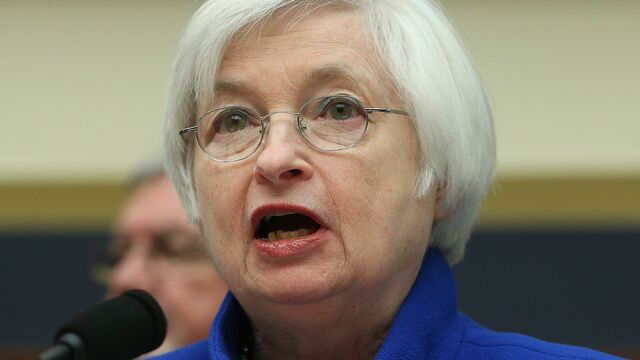 A dovish-sounding Janet Yellen wasn't enough to halt a selloff in the Standard & Poor's 500 Index that extended to a fourth day, with stock gains caving during the final hour of trading.
Concerns that financial-market turmoil could drag the economy into recession won out over signals from the Fed chair that the turbulence could elongate the schedule for raising interest rates. Raw-material, energy and bank shares fell the most.
The S&P 500 slipped less than 0.1 percent to 1,851.86 at 4 p.m. in New York, erasing an earlier 1.6 percent rally after Yellen said recession concerns are showing up in asset prices. The Dow Jones Industrial Average sank 99.64 points, or 0.6 percent, to 15,914.74, weighed by declines of more than 3.1 percent in Walt Disney Co. and International Business Machines Corp. The Nasdaq Composite Index rose 0.4 percent, pulling back from a bear market amid gains in technology and health-care stocks.
"I think short-term investors have been rewarded so far this year by selling the rips, and that's what happened today," said John Canally, chief economic strategist at LPL Financial Corp. in Boston. "The one big catalyst for the week was Yellen and that's over, and now refocus on oil, European banks and China when Lunar New Year is over."
Yellen told Congress today that declines in equities and other markets may weigh on the outlook for the economy -- an assertion traders initially welcomed because it implied a dovish approach to tightening amid the worst-ever start to year for American stocks. Financial conditions have become less supportive of growth and further rate hikes will be gradual, Yellen said before the House Financial Services Committee.

The Fed chair's comments reflected a concern that has hung over equity markets all year: whether the evaporation of wealth in share prices could bleed into the economy, sour consumer confidence and restrain spending. Almost $3 trillion of equity value has been erased as declines in the S&P 500 swelled to as much as 9.4 percent this year. Yellen said she hasn't seen a sharp drop-off in economic growth, either in the U.S. or globally, in spite of the big moves seen in financial markets.
"She's not oblivious to what's happening in the global economy and financial markets, as well as the stress of financial institutions," said James Abate, who helps oversee $1 billion as chief investment officer at Centre Funds in New York. "She essentially is trying to stick with the premise that the economy is improving but perhaps not at the rate they anticipated and only warrants gradual rate rises."
Policy Report
The central bank's monetary policy report acknowledged that financial markets have been marked by "bouts of turbulence," reflecting concern about the pace of global growth and the sharp selloff in crude oil prices. The concerns, as well as a flatter yield curve damping prospects for profit growth, were cited as reasons for a decline in financial stocks, the report said. The sector closed Wednesday at a more than two-year low.
Not everything that's happened in the stock market since August has been bad, according to the Fed report. Price-earnings ratios based on forecast earnings have fallen to levels closer to the average over the last three decades, it said. The S&P 500 currently trades at about 15.4 times estimated profit, down from almost 18 times in 2015, according to data compiled by Bloomberg. The five-year average ratio is 15 times.
Equity prices were a concern of Yellen on May 6, 2015, when she answered questions at a forum on finance in Washington. "I would highlight that equity-market valuations at this point generally are quite high," Yellen said in response to a question. "They're not so high when you compare the returns on equities to the returns on safe assets like bonds, which are also very low. But there are potential dangers there."
As worries spread to banks and technology shares with higher valuations, global stocks are approaching a bear market, trading volumes remain high and volatility is elevated. The Nasdaq Composite yesterday capped its worst three-day selloff since August, briefly dragging the gauge within 1 percent of a bear market.
Amid the turmoil in financial markets this year, traders have cut the probability they see of interest-rate increases, pricing virtually no chance of the Fed raising borrowing costs in March, and just 4 percent odds in April, down from 46 percent a month ago.
Earnings Watch
With the U.S. reporting season more two-thirds complete, 77 percent of S&P 500 members have topped profit estimates, while only 47 percent have beaten sales projections. Analysts estimate earnings at companies in the gauge fell 4.5 percent in the fourth quarter, better than Jan. 15 predictions for a 7 percent slump.
Investors are also watching shifts in the American political landscape -- Vermont Senator Bernie Sanders defeated Hillary Clinton in the New Hampshire Democratic Primary, while Donald Trump prevailed over a crowded Republican field.
"There was some conviction in the first half of the day that went away," said Richard Sichel, chief investment officer at Philadelphia Trust Co., which oversees $2 billion. "There was definitely some bargain-hunting today that propped up stocks, but it didn't take us to the end. There's still edginess and nervousness out there, and oil didn't help either." West Texas Intermediate crude futures fell 1.8 percent to settle below $28 a barrel.
The Chicago Board Options Exchange Volatility Index declined less than 1 percent Wednesday to 26.29, snapping a four-day increase that saw the measure climb 23 percent. The gauge of price swings known as the VIX has surged 44 percent in 2016. About 9 billion shares traded hands on U.S. exchanges, 13 percent above the three-month average.
Eight of the S&P 500's 10 main industries fell, an about-face in the final hour of trading as raw-material, energy and financial companies lost at least 0.4 percent. Health-care shares advanced for a second day, and the technology group added 0.4 percent after nearly erasing an earlier 2.4 percent rally.
Before it's here, it's on the Bloomberg Terminal.
LEARN MORE