EU, U.S. Reach Deal on Clearing Rules for Derivatives Market
by and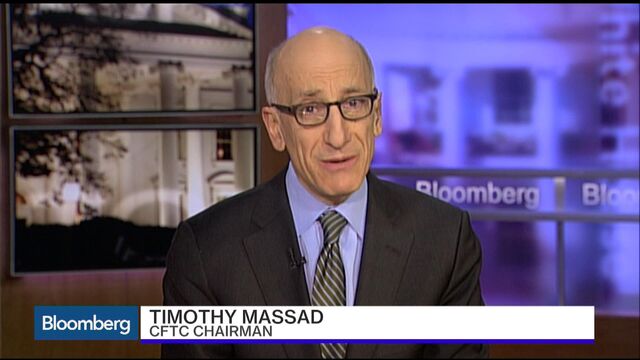 U.S. and European Union regulators reached an agreement on oversight of the $553 trillion global derivatives market, seeking to prevent capital increases from hitting EU banks this year and enabling CME Group Inc. to continue settling some of the world's most common contracts.
The European Commission, the EU's executive arm, said on Wednesday that it would adopt a so-called equivalence decision "shortly," acknowledging that U.S. supervision of clearinghouses such as CME Group's is equivalent to its own. Without the key finding, traders would have faced higher EU capital requirements if they wanted to clear swaps, futures and other derivatives in the U.S.
QuickTake Defusing Derivatives
"Our agreement is critical to ensuring that our global derivatives markets remain robust, while keeping our financial system as stable and resilient as possible," U.S. Commodity Futures Trading Commission Chairman Timothy Massad said. "It is a significant milestone in harmonizing regulation of these markets."
The agreement, which aims to conclude more than two years of regulatory debate that threatened to fracture the market, lays out a common approach to how both jurisdictions will oversee the biggest clearinghouses in the market, including those operated by LCH.Clearnet Group Ltd., Intercontinental Exchange Inc., Deutsche Boerse AG's Eurex and CME. 
Clearing Obligation
Clearinghouses stand between buyers and sellers and seek to reduce risks to the financial system by receiving collateral from both sides. Regulators moved after the 2008 financial crisis to require more interest-rate, credit and other swaps to be guaranteed at clearinghouses instead of being conducted directly between two traders.
Jonathan Hill, the EU financial services chief, said the deal means that "European CCPs will be able to do business in the United States more easily, and that U.S. CCPs can continue to provide services to EU companies," referring to central counterparty clearinghouses.
The regulators began to move more urgently to reach an agreement with European requirements for more trades to be settled at the clearinghouses starting to take effect in June. Under the rules, certain trades done before or after Feb. 21 -- but before the clearing obligation takes effect -- will also need eventually to be cleared, meaning firms were already starting to plan on how deals would be conducted and which clearinghouse might be used.
'Big Issue'
"We believe market participants can continue to clear transactions with confidence between now and then at those U.S. CCPs," Massad told reporters on Wednesday.
Terrence Duffy, executive chairman of CME, said on an earnings call on Feb. 5 that the talks have been "a big issue" and that the company, which guarantees trades in its Chicago-based clearinghouse, was working with Massad about the looming February deadline.
"I think the chairman has recognized that there could be market disruptions and that would be the worst thing that could happen – not only to the U.S. market, but to the European participants as well, if equivalence is not granted to the United States," Duffy said on the call.
Michael Shore, a CME spokesman, said in an e-mail on Wednesday that the company was pleased regulators reached an agreement, "which now provides certainty for our customers."
'Significant Milestone'
Jeffrey Sprecher, chief executive of Intercontinental Exchange, said in a statement that the agreement is a "significant milestone" in regulatory oversight and that the company will meet the new requirements.
Without an equivalence finding, European banks would have faced a major increase in capital requirements when they use U.S. clearinghouses such as CME's, which processes some of the most widely-traded derivatives in the world, including Eurodollar futures and options. That led CME and banks to press repeatedly for an end to the trans-Atlantic dispute.
UBS AG, Barclays Plc and other EU-based derivatives-brokerages account for about a quarter of overall customer collateral held by banks to backstop trades on U.S. exchanges, according to a Futures Industry Association review of CFTC data from November. European lenders have more than $34 billion in client collateral, the group said.
Dodd-Frank Act
The agreement says the CFTC will soon approve a policy that lets European clearinghouses provide services to U.S. customers while complying with EU requirements deemed comparable to U.S. Dodd-Frank Act standards. Meanwhile, the European Commission's impending equivalence decision will allow the European Securities and Markets Authority, the markets regulator, to resume the process of granting recognition to U.S. clearinghouses for business in the EU.
Certain requirements under the deal that will lead the EU to grant equivalence to U.S. clearinghouses won't apply to agricultural commodity contracts, the regulators said. Massad said the exception was made because the contracts are predominantly traded within the U.S. and don't carry much cross-border risk.
The regulators also said that the European Commission will soon propose a separate policy that would allow U.S. derivatives-trading platforms to be considered equivalent to venues regulated in the EU.
"Hopefully, this paves the way for other equivalence decisions to be taken – for example, on trading platforms and margin rules – in a quicker time frame," Scott O'Malia, chief executive of the International Swaps and Derivatives Association, said in a statement.
Before it's here, it's on the Bloomberg Terminal.
LEARN MORE