South Korea Planning to Pull Firms From North Factory Park
by
Gaeseong factory park has been symbol of Korean reconciliation

South Korea companies complain about withdrawal decision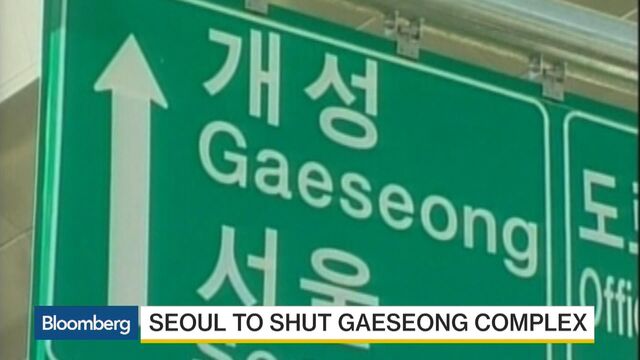 South Korea is pulling out of an industrial complex jointly run with North Korea, taking aim at their last remaining symbol of economic cooperation to punish Kim Jong Un for a recent nuclear test and rocket launch.
"An extraordinary measure is needed to force North Korea to give up its nuclear arms," South Korean Unification Minister Hong Yong Pyo told reporters Wednesday. The government did not want companies and funds for the Gaeseong factory park used for North Korea's nuclear and missile development, Hong said.
The withdrawal, which takes effect immediately, will impact more than 120 South Korean companies employing about 54,000 North Korean workers at the complex that sits just north of the heavily armed border.
South Korea is seeking to dry up North Korea's coffers at a time China, while condemning Kim's actions, has been reluctant to support tougher sanctions -- including on energy imports -- that could destabilize an ally. South Korea is also considering opening its soil to a U.S. ballistic missile defense system opposed by China.
Gaeseong has long been viewed as a source of hard currency for the isolated government in Pyongyang, which had no immediate response to the decision. North Korea has received 616 billion won ($514 million) in cash since the complex began in the early 2000's, including 132 billion won last year alone, Hong said. South Korea's government and private citizens have invested more than 1 trillion won, he said.
A Strong Message
South Korea's plan shows President Park Geun Hye's patience is running out despite her hopes for eventual unification. In 2014, less than a year after taking office, she said that reuniting the countries would be an "economic bonanza" for the combined 75 million population on the peninsula.
The industrial park served as a testing ground for a unified Korean economy by merging South Korean know-how and capital with North Korea's cheap labor. Companies operating there have mostly produced labor-intensive goods, including Romanson Co., a watch maker, Shinwon Corp., a clothing manufacturer, and Good People Co., an underwear maker.
"This is a strong message to North Korea and a rallying cry for more international sanctions and pressure against Pyongyang," said Chang Yong Seok, a researcher at the Institute for Peace and Unification Studies at Seoul National University. "The complex has been an obstacle to South Korean, U.S. and Japanese efforts to increase their independent sanctions against North Korea apart from United Nations sanctions."
China Dependence
Japan's National Security Council on Wednesday imposed new sanctions on North Korea, including a ban on all North Korean ships from entering the country. The U.S. Senate voted Wednesday to require the U.S. president to sanction individuals, foreign governments and financial institutions involved in prohibited transactions with North Korea.
China provides most of North Korea's energy and food imports and has repeatedly rejected tough sanctions like banning oil shipments to the country for fear of destabilizing the regime and triggering a flood of refugees across the countries' shared border.
"Without the trade and currency from Gaeseong, North Korea's economy will depend almost solely on China," said Robert Kelly, a professor of political science and international relations at Pusan National University in South Korea. "China seems prepared to put up with a lot of North Korea's misbehavior. If China doesn't do something very serious on North Korea soon, then President Park will never go back to Beijing. How much more can China put up with?"
Missile Defense
In response to North Korea's growing capabilities, South Korea and the U.S. said they would begin talks about the deployment on the peninsula of a ballistic missile defense system known as Thaad. China said it is "deeply concerned" about the talks on Thaad, calling it a source of more tensions between the two Koreas.
North Korea is developing a missile called Taepodong-2 with a range of 10,000 kilometers (about 6,200 miles), according to South Korea's Defense Ministry. That would leave the West Coast of the U.S. within the missile's range.
Suspension or Closure?
The Gaeseong complex started production in 2004 and has survived periodic tensions linked to nuclear and missile tests by North Korea. In 2013, Pyongyang withdrew its workers for months after its third nuclear test, returning them after the countries agreed on steps to improve ties, including reunions of families separated by the 1950-53 Korean War.
"Other than Gaeseong there's very little that links the South economically with the North," Kelly said. "This closure is going to hit North Korea hard -- in the pocket," he said. "The question is whether this is a suspension or a real closure."
A Gaeseong business group quickly protested the move to pull out, saying the announcement gave companies little time to minimize losses.
North Korea would probably try to export its Gaeseong workers to China while their South Korean employers would find it hard to hire cheaper laborers, according to Cheong Seong Chang, a senior analyst at the Sejong Institute near Seoul.
"North Korea's damage from a closure of the Gaeseong complex may not be as big as South Korea expects," Cheong said by text message. "The Gaeseong complex has been the only place for inter-Korean cooperation and its closure could lead to an entirely confrontational situation in the relations between the two Koreas."
Before it's here, it's on the Bloomberg Terminal.
LEARN MORE