Renzi Says EU Can Dodge Titanic Disaster Following Italy's Lead
by , , and
EU leaders like band playing as doomed liner sank, Renzi says

Italy's biggest test may come in tackling chaos in Libya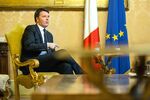 Italian Prime Minister Matteo Renzi is declaring victory at home and embracing a more assertive role further afield.
In an interview at his residence in Rome this week, Renzi took a swipe at the attempts of other European Union leaders to get a grip on the bloc's multiple crises, saying they have no clear strategy. Though critics say his domestic program remains far from complete, Renzi said his fellow leaders should follow Italy's example to turn the situation around.
"The EU is like the orchestra playing on the Titanic," Renzi said. "Today we have done reforms and we are in a position to say to EU partners: 'friends, we can change this wrong, bureaucratic approach.' "
Europe's leaders have been playing whack-a-mole for most of the past year, with conflicts roiling neighbors from Libya to Ukraine and Syrian refugees pouring across its borders as economic-policy makers struggle with the aftermath of the debt crisis and the British debate whether to abandon the European project altogether.
Italian Pragmatism
To impose some order on the chaos, Renzi suggests the EU needs to use its financial and military strengths where they can make a difference and recognize the limits of its power elsewhere. That means relaxing budget restrictions to ease the social strains of the refugee crisis, sending troops to Libya and seeking reconciliation with Russia.
He's also needed the European Commission's blessing for a plan to tackle the bad loans dragging down the Italian banking industry. The country's bank stocks have lost more than 30 percent this year while industrial production dropped unexpectedly in December, in a sign the domestic recovery is far from secure.
Renzi's cabinet was due to discuss measures to encourage the country's banks to merge  on Wednesday evening as the prime minister seeks to shore up his progress at home, two people familiar with the plan said. The package may include new welfare-related rules to make it easier for banks involved in mergers and acquisitions to reduce staff.
Italy is ready to take on "a more mature role," Defense Minister Roberta Pinotti said in a separate interview Monday. Italy "is working to be among the key players on the global scene. Renzi's foreign policy is different, it is certainly more assertive," she said.
The first and biggest test of Renzi's foreign-policy ambitions lies just across the Mediterranean in Libya, where rival factions have torn the country apart since Muammar Qaddafi was ousted in 2011.
Italy, as Libya's neighbor and former colonial power, is on the front line of Europe's response to the chaos and Italian oil producer Eni SpA is the country's biggest investor.
After hosting talks aimed at setting up a government of national unity in December, Italy is drawing up plans to lead a peace-keeping coalition with nations including the U.K., France and Germany. While the U.S. and U.K. have called for swifter action to stem the rise of Islamic State, Italian officials say they'll be able to stabilize Libya once the administration has taken control without getting drawn into a combat role.
Building Influence
Renzi's first attempt to change the course of EU policy came in April last year, after some 700 migrants drowned off the coast of Libya. The Italian premier demanded help from the rest of the EU to tackle the influx. European leaders responded with pledges of navy ships and more money to target human traffickers' boats in the Mediterranean Sea.
Since then, Renzi has criticized Germany and France, the EU's traditional power brokers, for trying to cut bilateral deals on issues such as the refugee crisis, he challenged German Chancellor Angela Merkel over a Turkish aid plan to stem the flow of refugees, and pushed for Russia to be brought in from the cold with closer links to EU nations.
Many of his jabs have been ignored so far, though he'll have a chance to follow up next week when EU leaders meet for a summit in Brussels.
European Commission President Jean-Claude Juncker has come under particular pressure as Renzi pushes for budget flexibility to help support Italy's faltering economic recovery. At the weekend, Renzi called for primaries to pick Juncker's successor, making yet another jibe at the Brussels "technocracy" he argues is out of touch with citizens.
To justify his demands, Renzi points to the progress he's made at home since coming to power in 2014 -- a new electoral system, an overhaul of the Senate and new labor market rules to make hiring and firing easier. It's a stark contrast with the embattled leaders elsewhere, he says.
"One country is particularly affected by the migration crisis, another one has elections next year, another is focused on the referendum, another country is without a government," Renzi said. "Italy has not solved all its problems but it has shown in the past two years that everything is possible."
Before it's here, it's on the Bloomberg Terminal.
LEARN MORE