Putin Embraces Old Foe Pakistan to Curb Afghan Terror Threat
by
Russia, Pakistan to hold first joint drills on land this year

Terror concerns blur Cold War-era alliances between nations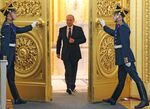 Cold War foes Russia and Pakistan are set to hold their first joint military drills on land, a sign that neighboring Afghanistan may avoid becoming the site of another proxy war between global powers.
Russian President Vladimir Putin, in need of cash, is seeking to shift away from his country's decades-old relationship with India -- which is also buying more weapons systems from the US. In doing so, Putin is embracing an old adversary that helped Mujahideen insurgents expel Soviet forces from Afghanistan in the 1980s.
"Russia is increasingly concerned about the security situation in Afghanistan and recognizes the critical role that Pakistan would have to play in the reconciliation process between the Taliban and Afghan government," said Michael Kugelman, a South Asia expert at the Washington-based Woodrow Wilson International Center for Scholars.
The rapprochement comes at a crucial time for Afghanistan: The U.S., China and Pakistan are seeking to facilitate a peace deal between the government and Taliban as coalition forces look to withdraw after 15 years of fighting. The last time a war ended in Afghanistan -- the Soviet withdrawal in 1989 -- a proxy fight unfolded that created space for terrorist groups to thrive, including al-Qaeda prior to the Sept. 11, 2001 attacks.
'Important Cooperation'
Russian ground forces will hold military exercises with Pakistan in "mountainous terrain" this year for the first time, Russian Army Commander-in-Chief Oleg Salyukov was quoted as saying by Tass news agency on Jan. 22. E-mailed questions to Russia's defense ministry weren't answered, and its spokesman didn't respond to calls and text messages. The public relations wing of Pakistan's army didn't respond to requests for comment.
"Pakistan is one of the key nations in a sphere of fighting terrorism," Dmitry Peskov, a spokesman for Putin, told reporters on a conference call last week. "Russia sees very important cooperation with Pakistan in this sphere."
The Afghan government is keeping Russia appraised on the peace process and would welcome its support on military and security efforts, Chief Executive Officer Abdullah Abdullah, Afghanistan's second-most powerful policy maker, said in a Feb. 3 interview.
Nascent Trade
"We expect countries to set aside their grievances for the sake of dealing with the most important challenge that we are all facing," Abdullah said. "Russia has an interest because of the terror groups from Chechnya and the Central Asian republics, which are fighting alongside the Taliban."
Russia's overall engagement with Pakistan is still nascent. Two-way commerce between the two nations was a paltry $472 million in 2014, with neither figuring among each other's top 20 trading partners. Russia and the Soviet Union have only supplied 3 percent of Pakistan's arms since 1950, according to data compiled by the Stockholm International Peace Research Institute. By contrast, the U.S. and China together provided nearly two-thirds of its weapons in that period.
The Soviet Union invaded Afghanistan in 1979 to prop up a Marxist government battling Muslim guerrillas, setting off a brutal conflict that pitted more than 100,000 Soviet occupying troops against rebels backed by the U.S., Pakistan and others.
The global terrorism threat is blurring those old dividing lines. Russia, traditionally India's biggest supplier of arms, signed a military pact with its arch-rival Pakistan to cooperate more closely on counter-terrorism last year and also agreed to sell it four Mi-35 attack helicopters.
Helicopters, Pipeline
Pakistan may buy as many as 20 Mi-35 helicopters as well as Russian surface-to-air missile systems, according to Jon Grevatt, Asia-Pacific defense-industry analyst for IHS Jane's.
"Russia is always very open to creative repayment terms," such as soft loans and payment in commodities, Grevatt said. "This would be attractive to Pakistan."
Russia is also increasing broader economic cooperation with Pakistan.
Moscow-based Rostec State Corp. agreed in October to build and potentially operate a 1,100-kilometer (684-mile) pipeline from Karachi to Lahore that would ship as much as 12.4 billion cubic meters of gas per year -- about 30 percent of Pakistan's current consumption. The $2.5 billion project is expected to be completed by 2017. Construction will start in July, Tass reported on Jan. 28, citing Pakistan Petroleum Minister Shahid Khaqan Abbasi.
The geographical location of the military drills is significant. More than a hundred thousand Pakistani troops are deployed in counterinsurgency operations in the Swat valley and tribal belt bordering Afghanistan, said Arif Rafiq, president of Vizier Consulting, LLC which provides political risk analysis on the Middle East and South Asia, citing figures from discussions with Pakistani officials.
"Countering the Taliban insurgency has become the Pakistan Army's main security challenge and it's keen to improve its counterinsurgency capabilities," Rafiq said. "Moscow has fought insurgencies in such terrain for decades, with varying degrees of success. There are lessons to be learned."
Before it's here, it's on the Bloomberg Terminal.
LEARN MORE