Big Swiss Fund Bets Against U.K. Stocks at Risk of 'Brexit'
by
U.K. equities have fallen less than European shares this year

Volatility expectations are lower for Britain's stocks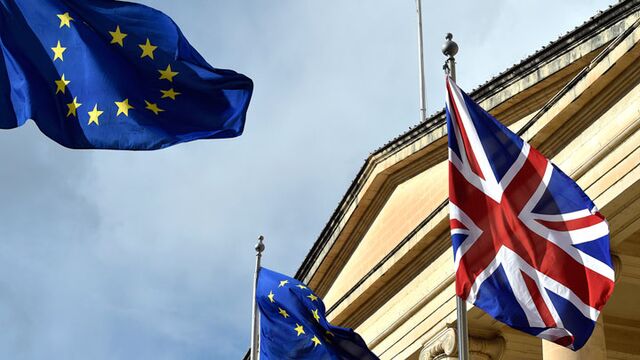 U.K. stocks aren't reflecting the true risk of Britain exiting the European Union, says Pictet Asset Management's Elif Aktug.
QuickTake Will Britain Leave the EU?
"Equity investors are complacent with the risk of Brexit," said Aktug, the manager of the 1.8 billion-euro ($2 billion) Pictet Total Return Agora fund at the Geneva-based firm. "People seem to think that it wouldn't be a good idea for U.K. electors to vote for Brexit, therefore it's not going to happen. But the risk is far from negligible. We are quite worried."
Aktug said her fund is shorting companies that generate sales in the U.K., though she wouldn't say which ones or what industries they're in. A JPMorgan Chase & Co. basket of firms that are the most at risk, including retailer Next Plc and the London Stock Exchange Group Plc, has plunged 18 percent this year, almost double the benchmark FTSE 100 Index.
Smaller companies have the most to lose were the U.K. to exit the EU because they'd suffer a one-two punch of missing out on a European economic revival while feeling the brunt of deteriorating growth at home. If it left, Britain could tip into recession, Nomura International Plc said in a note on Tuesday. But despite the risk, a measure tracking volatility expectations for Britain's stocks remains lower than for Europe.

Concern that leaving the EU would jeopardize London's role as a global financial center has prompted the banking industry to rally against that outcome before Prime Minister David Cameron holds a referendum as early as June 23. A poll published last week showed a nine percentage-point lead for those aiming to leave the 28-nation bloc, though nearly a fifth of respondents were undecided.
Currency traders have better factored in the risks, Aktug said. An exit from the EU would lead to an "abrupt and total interruption" of incoming capital flows, and would send the pound tumbling as much as 20 percent, Goldman Sachs Group Inc. analysts wrote in a Feb. 4 note. Options traders have become more bearish on the pound this year because of the uncertainty.
Aktug, who quit Goldman Sachs in 2011 after 12 years to join Pictet, is bullish on equities in France, which she says is at the forefront of Europe's recovery. She also prefers domestic European companies over those that rely on sales from emerging markets.
Her market-neutral Agora fund is among the few over $1 billion that has avoided steep declines this year -- a notable feat in a market where China, oil and a banking rout have whipsawed investors in almost every asset class worldwide. Concern over the Asian nation prompted Aktug to short energy shares last year, but she has since changed tack -- switching to neutral on the sector on uncertainty that oil can fall much further below $30 a barrel.
Aktug is also buying shares of potential takeover targets. She sees merger activity in store for firms in consumer staples, the French telecommunications industry, chemicals and health care.
Before it's here, it's on the Bloomberg Terminal.
LEARN MORE