Palm Exports From Top Producer Seen Tumbling Most Since 2014
by and
Indonesia shipments seen down 22% in January in survey

Local biodiesel makers boost palm oil purchases for blending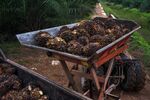 Palm oil shipments from Indonesia probably dropped the most in almost two years in January after domestic biodiesel makers increased purchases amid a decline in production.
Exports, including palm and kernel oils, fell 22 percent to 1.97 million metric tons from December, according to the median of 10 estimates from analysts, planters and industry officials. That would be the steepest decline since April 2014, according to data from the Indonesian Palm Oil Association.
Dwindling supplies from the world's largest producer may help further extend gains in futures in Kuala Lumpur from a 20-month high. The vegetable oil used in everything from cookies to cosmetics and biodiesel has surged about 38 percent from a six-year low in August on concern the strongest El Nino in almost two decades will hurt production and shrink inventories.
"Domestic demand for biodiesel is increasing," said Joelianto, trading director at PT Sinar Mas Agro Resources and Technology. "Supply is limited because of the low production season and the effect of El Nino. Output will remain low until June or July."
Mistry Forecast
Futures in Kuala Lumpur were little changed at 2,568 ringgit ($625) at 11:43 a.m. local time on Thursday. Prices may climb to as high as 2,700 ringgit in the second quarter as supplies dwindle and global inventories shrink, according to Dorab Mistry, a director at Godrej International Ltd.
Indonesian biodiesel makers are buying more palm oil to meet their supply contracts with PT Pertamina, said Eddy Martono, director at planter PT Mega Karya Nusa. Eleven suppliers in November agreed to supply 1.85 million kiloliters of biodiesel to Pertamina, Indonesia's state-energy company, until April.
Indonesia will need to make a colossal increase in subsidies to make the biodiesel blending workable after the collapse in crude oil prices, Mistry said at a conference in Karachi, Pakistan on Feb. 7. The government is seeking several options to cover potential shortfall in subsidies, Bayu Krisnamurthi, the chief executive of Indonesia Estate Crop Fund, said Jan. 21.
Falling Output
Production in Indonesia probably totaled 2.23 million tons in January and reserves were 2.05 million tons, the survey showed. That compares with December output of 2.43 million tons and inventories of 2.9 million tons in a survey last month. The Indonesian Palm Oil Association, known as Gapki, doesn't release monthly production and stockpile data.
Output also probably dropped because of the impact of lack of fertilizer use by smallholders in the second-half of 2015 which reduced fresh fruit bunch output, Hariyanto Wijaya, analyst at PT RHB Securities Indonesia, said by e-mail Feb. 5.
The lagged effects of "unfavorably" dry weather last year reflected in significantly reduced yields in several parts of Malaysia and Indonesia in December and January, researcher Oil Worldsaid this month.
The Indonesian Palm Oil Association will release January export data later this month.
| | Jan. 2016  | Dec. 2015 | Jan. 2015 |
| --- | --- | --- | --- |
| Production | 2.23 | 2.43 | 1.92 |
| Stockpiles | 2.05 | 2.90 | 2.30 |
| Exports | 1.97 | 2.51 | 1.81 |
Source: Bloomberg survey and Gapki
NOTE: Figures are in millions of tons
Before it's here, it's on the Bloomberg Terminal.
LEARN MORE