OPEC Sees Steeper Drop in Rivals' Supply as Price Curbs Spending
by
Group's output rose by 130,700 barrels a day in January

Non-OPEC supply to decline by 700,000 barrels a day this year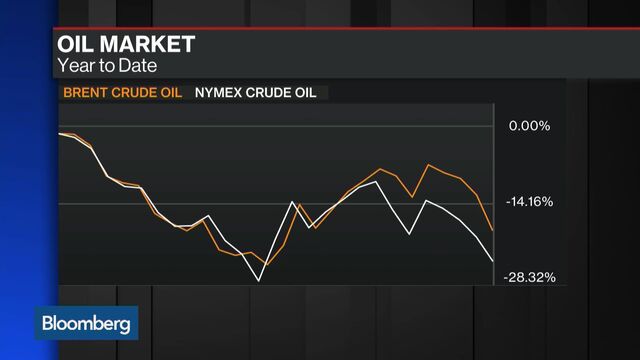 OPEC revised estimates of production from rival suppliers, indicating a steeper drop in non-OPEC supply than previously anticipated.
Production outside the Organization of Petroleum Exporting Countries will fall by 700,000 barrels a day in 2016, or 40,000 a day more than the group estimated last month. OPEC's output increased by 130,700 barrels a day in January to 32.34 million a day. That's about 600,000 a day more than the average required for this year.
"Announced capex cuts by international oil companies, the fall in active drilling rigs in the U.S. and Canada, and a heavy annual decline in older fields" explains the deeper slump in non-OPEC supply, the organization's Vienna-based secretariat said Wednesday in its monthly market report.
Oil prices remain capped near $30 a barrel after sliding to a 12-year low in late January as resilient U.S. shale production and increased OPEC output prolong a global surplus. The retreat in non-OPEC supply indicates that the organization's Saudi-led strategy to defend market share is having some success.
Producers' Pain
U.S. drillers are operating about a third of the rigs they were using before Saudi Arabia's resolve to keep pumping was made clear in late 2014, data from Baker Hughes Inc. show. Still, many OPEC members have expressed concern that the current policy is causing too much economic pain. Venezuelan Oil Minister Eulogio Del Pino toured oil capitals from Moscow to Riyadh last week in the hope of brokering an accord that would constrain supply, without securing an agreement.
Output from OPEC's 13 members increased last month as Iran, Iraq, Nigeria and Saudi Arabia increased production, according to "secondary sources" cited by the report. Nigeria's gain was biggest, adding 74,000 barrels to reach 1.87 million barrels a day.
OPEC sees oil demand rising by 1.25 million barrels a day this year to 94.21 million a day. That's a 10,000-barrel-a-day reduction to its previous forecast.
The group raised its estimate for non-OPEC supply growth in 2015 by 90,000 barrels a day to 1.32 million barrels a day.
Before it's here, it's on the Bloomberg Terminal.
LEARN MORE