NATO Stirs Russian Anger by Bolstering Eastern Europe's Defenses
By
Allies to rotate more troops to east, backed by U.S. spending

AWACS radar jets to support coalition against Islamic State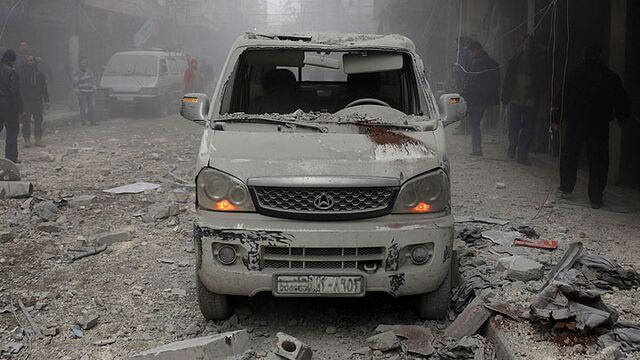 NATO approved new reinforcements for eastern Europe and considered dispatching surveillance jets to the Middle East, reawakening Russia's fears of encirclement by hostile powers.
The U.S.-led alliance announced stepped-up troop rotations on its eastern flanks and more naval patrols in the Baltic Sea, and neared an agreement to send AWACS radar jets to back up the coalition fighting the so-called Islamic State in Iraq and Syria.
The decisions on two fronts acknowledged that after unsettling eastern Europe by dismembering Ukraine in 2014, Russia has gone on to destabilize the alliance's southeastern borders with its military campaign to save Bashar al-Assad's regime in Syria.
"NATO means what it says, it's ready to deter any kind of pressure," U.K. Defence Secretary Michael Fallon said at a meeting of allied defense ministers in Brussels on Wednesday. Britain will deploy more warships to task forces mainly in the Baltic Sea, but also in the North Atlantic, the North Sea and Mediterranean.
Troop Rotations
Underwritten by $3.4 billion in additional U.S. spending, the North Atlantic Treaty Organization will stockpile more war-fighting equipment in eastern Europe and increase the tempo of troop rotations in countries like Poland that are especially sensitive to potential Russian threats.
In what NATO labels "modern deterrence," the message to the Kremlin is that any attempt to grab territory in, for example, Estonia, would quickly run into American, British, German, French and other troops and trigger a broader, unwinnable conflict.
Secretary General Jens Stoltenberg predicted a "positive response" to an American request for air-surveillance support for the anti-Islamic State coalition. The Brussels sessions end Thursday afternoon with U.S. Defense Secretary Ash Carter chairing a meeting of defense ministers from that coalition.
Russia Checked
Russia dismissed NATO's argument that the deployments are defensive. Kremlin suspicions of allied intent trace to NATO's admission of eastern members in 1999 and were heightened by the initial reinforcements of eastern Europe at the start of the Ukraine conflict.
"We don't understand what has provoked these actions," Russian Foreign Ministry spokeswoman Maria Zakharova told reporters in Moscow. "The goal is to keep Russia in check."
Allied troop concentrations will, however, be a tiny fraction of the 400,000 Americans stationed in western Europe at the height of the Cold War. Contingents of 150 U.S. troops started to train in eastern Europe in 2014. The Pentagon now plans to have roughly 3,000 troops regularly shuttling in and out of the region, many from bases in western Europe or the U.S.
The small scale reflects the evolution of high-tech warfare, strained defense budgets and a determination -- notably in Germany -- not to alarm Russia.
"To the claim this might be provocative: NATO hasn't invaded anyone," the U.S. ambassador to the alliance, Douglas Lute, said Tuesday.