Japan Widens North Korea Sanctions in Response to Rocket Launch
by
Security council bans entry of North Korean ships to Japan

Re-entry of nuclear, missile experts also prohibited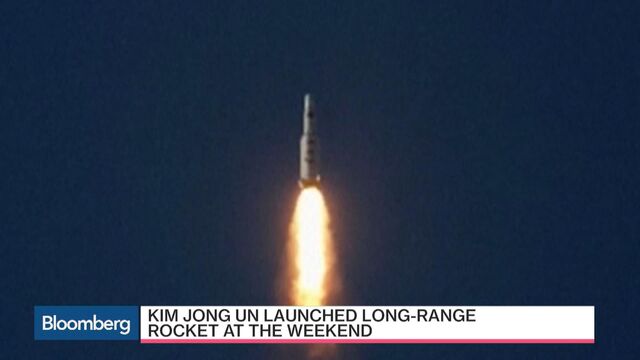 Japan widened sanctions against North Korea in response to the Kim Jong Un regime's recent nuclear test and rocket launch.
The restrictions ban entry of all North Korean ships to Japan ports and add other limits to travel between the two countries, according to a statement from Chief Cabinet Secretary Yoshihide Suga on Feb. 10. Remittances of more than 100,000 yen ($870) are also banned, except for humanitarian aid, Suga said.
The Kim regime's Feb. 7 rocket launch drew condemnation from China, Russia and the U.S. as well and prompted United Nations Security Council representatives to vow new restrictions against the country. South Korea's Defense Ministry said the rocket successfully put a satellite into orbit, though it has yet to verify if it is operating normally, Yonhap News reported Feb. 9.
Long-running disputes between North Korea, its neighbors and their allies have escalated again since the rocket firing Sunday and a hydrogen bomb test Jan. 6.
Kim had his military chief Ri Yong Gil executed early this month on charges including corruption, Yonhap News reported, citing an unidentified source familiar with the nation's affairs. Both South Korea's Defense Ministry spokesman Kwon Ki Hyun and Unification Ministry spokeswoman Park Soo Jin declined to confirm the report.
Separately, South Korea plans to pull out of an industrial complex jointly run with North Korea, a parliamentary official said Wednesday, a move which would shutter one of the remaining symbols of cooperation between the estranged countries.
Before it's here, it's on the Bloomberg Terminal.
LEARN MORE