James Bond, Star Wars Studio Pinewood Put Up for Sale
by
Buckinghamshire studios home to almost all James Bond Films

Rothschild hired to conduct a strategic review of company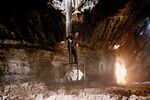 Pinewood Group Plc, the owner of the studios where "Star Wars: The Force Awakens" and almost all James Bond movies were filmed, hired Rothschild to conduct a strategic review of the company that could lead to its sale. The stock soared.
The company raised 30 million pounds last year ($43 million) to fund an expansion of its eponymous main studios and diversify its shareholder base. But insufficient liquidity in the stock has prevented Pinewood from moving from AIM, London's market for smaller growing companies, to a main market listing, the company said Wednesday.

"We've basically got 79 percent of stock held by the top three shareholders," Chief Executive Officer Ivan Dunleavy said by phone. Peel Holdings has 39 percent, followed by Warren James Holdings Ltd. at 26.1 percent and Aviva Plc at 13.1 percent. For a company to move to London's main bourse it would have to have a minimum free float of 25 percent. 
"Another option we could look at would be placing more shares into the marketplace," Dunleavy said. Pinewood's strategic review started Wednesday morning and the company expects the process to be "fairly prompt," Dunleavy said.
The stock rose 20 percent to 540 pence at 1:07 p.m. in London, giving the company a market value of 310 million pounds.
"Given the trophy asset nature of Pinewood we envisage high overseas interest from media/property companies, especially Chinese or U.S. players," Sahill Shan, an analyst at N+1 Singer said in a note. N+1 Singer estimates a fair value for Pinewood of 550 pence to 600 pence a share.
The U.K. Takeover Panel has agreed to exempt Pinewood from a rule that typically would require it to publicly identify any party that's interested in acquiring the studio. Dunleavy said Pinewood hasn't yet had any approaches from potential buyers.
The company, which is expanding its studios in Buckinghamshire, England, where movies including the 24th James Bond film "Spectre" were shot, said it is now projecting better full-year performance than it did in December. Film revenue has benefited from "robust" growth in ancillary sales and television revenues have performed well in the second half of the financial year, the company said in a statement.
Pinewood is spending an undisclosed amount on Amazon Prime's first U.K. original drama called "The Collection," the story of a Paris fashion house just after World War II. The studio is also building a set for the production in Wales, and Amazon says the eight-part series will be shot in the country, as well as in France.
Before it's here, it's on the Bloomberg Terminal.
LEARN MORE