Greece Faces Threat of More EU Calls to Control Refugee Tide
by
European Commission discusses possible new recommendations

Surveillance could lead to longer internal-EU border checks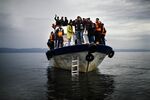 The European Union stepped up pressure on Greek Prime Minister Alexis Tsipras to get a better handle on the influx of Mideast refugees by flirting with a measure that could leave migrants stranded in his cash-strapped nation.
The European Commission, the EU's executive arm, discussed on Wednesday sending extra recommendations to the Greek government so it improves the registration of asylum seekers and upholds an agreement on passport-free travel in the so-called Schengen zone of 26 nations. Such a step could end up allowing internal-EU border checks to be prolonged for as many as two years.
The deliberations in Brussels came a week after the commission formalized an initial set of prescriptions for Tsipras's fragile coalition and coincided with the release of reports evaluating the efforts of Greece and other nations to control the largest European refugee wave since World War II. Registration of the newcomers is supposed to take place in "hotspots," including on five Greek islands in the Aegean Sea that last year became the main EU entry points for refugees after often-hazardous sea travel from Turkey.
"The rollout of the five hotspots identified in the Aegean islands has been slow, due in part to the need to build them from scratch and with shortcomings in infrastructure, staffing and coordination," the commission said in a statement. "Only one hotspot is currently fully operational -- in Lesvos."
Schengen Evaluation
Another set of commission policy demands on Greece would bring countries that have reintroduced internal-EU border controls closer to being allowed to extend them for as long as two years. Overwhelming numbers of refugees risk stoking populist reactions across the 28-member EU, destabilizing national governments and breaking apart the Schengen zone, a prime symbol of European integration that has abolished controls at common borders.
With the Syria war still raging, signs are scant of a letup in the EU influx of asylum seekers who numbered around 1 million last year. More than 60,000 people displaced by violence and unrest in the Middle East and Africa landed on Europe's shores last month alone, over 10 times as many as in January 2015, according to the United Nations refugee agency. With the possibility of the number growing as the weather warms in spring, policy makers in the region say they have about two months to control the situation.
The Greek government on Wednesday also faced commission criticism for failing to send home more so-called economic migrants who have no right to asylum in Europe. Since the start of last year, Greece has carried out 16,131 forced returns and 3,460 voluntary returns, according to the commission, which said "this remains insufficient."
Solidarity, Responsibility
In addition, Greece is falling short of a goal to have refugee reception capacity of 50,000, including 20,000 places run by the UN, according to the commission. It put the shortfall at more than 12,000.
Greece won praise for increasing fingerprinting of migrants to 78 percent of the total in January from 8 percent in September.
Other EU countries were scolded by the commission for failing to follow through on an agreement last year to accept 66,400 refugees from Greece. So far, only 218 relocations have taken place and just 15 EU governments have offered places, according to the commission.
"All member states have to show solidarity and responsibility," EU Migration Commissioner Dimitris Avramopoulos said at a press conference where he presented the progress reports.
Turkey, slated to receive 3 billion euros ($3.4 billion) from the EU over the next two years to help stem the flow of migrants, also came in for criticism.
"Turkey needs as a matter of urgency to make significant progress in preventing irregular departures of migrants and refugees from its territory to the EU, notably by stepping up land-based operations," the commission said.
Before it's here, it's on the Bloomberg Terminal.
LEARN MORE