Deutsche Bank's CoCo Payments Hinge on Obscure Accounting Metric
by
German accounting law defines `Available Distributable Items'

Limit to coupon payment unrelated to EU law and ECB oversight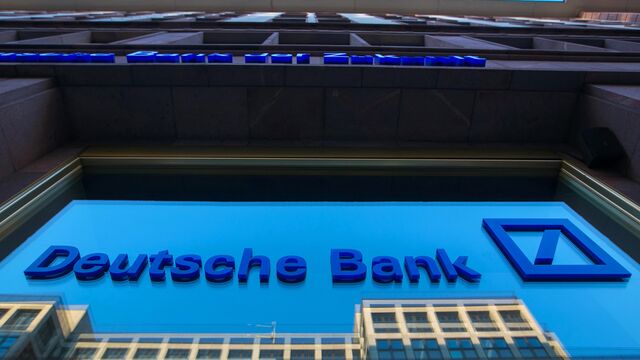 Deutsche Bank AG's ability to pay the coupons on its 4.6 billion euros ($5 billion) of additional Tier 1 bonds hinges on an accounting metric that is separate from the standard results investors focus on.
The limiting factor for the bank's capacity to make coupon payments -- which aren't mandatory, unlike interest payments on senior debt -- are its "available distributable items," a category defined in Germany's commercial code.
The starting point for the calculation is the lender's net income, but not the headline net income the bank reports on earnings day. In this case the term refers to the unconsolidated result of the group's German parent company, and it's calculated according to German accounting principles, not international rules.
The main difference between the accounting regimes is that the German commercial code is more focused on creditors' interests than those of shareholders, resulting in a more conservative valuation of assets. International rules, by contrast, mark asset values to market prices, making the results more volatile. In 2014, Deutsche Bank reported German-code net income of 1.263 billion euros, compared with net income of 1.691 billion euros according to International Financial Reporting Standards, or IFRS.
Added to that starting point are profits carried forward from previous years and distributable reserves. This allows companies in principle to pay dividends or coupons even when they report an annual loss, assuming they have enough reserves set aside. Deutsche Bank's additional distributable items based on that category totaled 6.332 billion euros in 2014.
This sum is then subject to deductions, starting with losses carried forward and funds that are blocked from distribution under Germany's commercial code. Those blocked items include the value of self-developed intangible assets, such as intellectual property; unrealized gains on assets held for pension liabilities; and deferred tax assets, the biggest item in Deutsche Bank's case. The lender had 5.483 billion euros of blocked amounts in 2014, 3.561 billion euros of which were deferred tax assets.
All told, Deutsche Bank's available distributable items totaled 2 billion euros in 2014. The company said on Monday that it expected to have 4.3 billion euros available next year.
"In 2016, our payment capacity is expected to be approximately 1 billion euros, more than sufficient to service an AT1 coupon of approximately 350 million euros on April 30, 2016," Chief Financial Officer Marcus Schenck said on Feb. 8. "In 2017, we anticipate that our AT1 payment capacity will be approximately 4.3 billion euros before the effect of this year's operating results, driven in part by the disposal of our 19.99 percent stake in Hua Xia Bank, which we anticipate in mid-year 2016, in addition to our existing reserves."
Before it's here, it's on the Bloomberg Terminal.
LEARN MORE