Deutsche Bank's Assurance Exposes Tip of CoCo Iceberg: Analysis
CoCo problems show the extent to which investors have been chasing yield down the capital structure.
by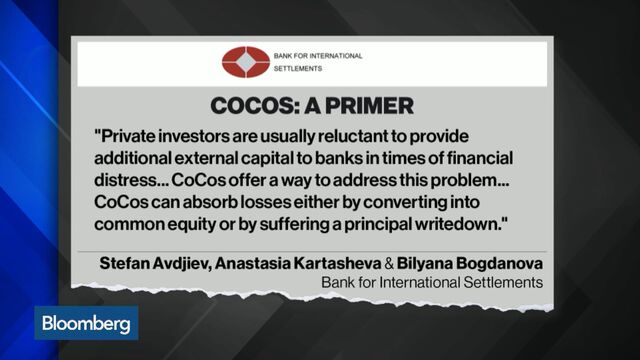 The volatility and credit spread gyrations seen in the financial space over the past 24 hours may be the consequence of more than just investor unease over Deutsche Bank AG's ability or otherwise to meet obligations on its riskiest bonds and other debt service costs, Bloomberg strategist Simon Ballard writes.
Rather it probably highlights the extent to which investors have chased yield down the capital structure over the past couple of years and are now left exposed to possible re-pricing risk.
From a regulatory perspective, Contingent Convertible Bonds, known as CoCos or additional Tier 1 securities, were developed to be a strategic funding tool -- a regulatory capital buffer to prevent systemic collapse of important financial institutions. Effectively, CoCos are designed to fail, without bringing down the bank itself in the process. The key problem in understanding the true risk embedded in this asset class, though, might be that it has never been tested. Deutsche Bank, in feeling compelled to reassure investors and employees that it has the solvency to meet its coupon obligations on this riskiest debt may have only exacerbated market uncertainty over, and price reaction in, these assets.
Investor concerns remain over what the overall market impact might be if a bank should see the need to suspend a coupon payment on a CoCo security. Indeed, such a move could make the latest selloff in credit risk look like a mere correction.

The latest volatility in financial risk may reflect the extent to which risk assets more generally have rallied beyond their underlying fundamentals over the past couple of years, as risk appetite has been buoyed by artificially low interest rates and near open-ended monetary policy accommodation. In this environment, CoCos have been but one asset that borrowers have been able to capitalize on for historically cheap funding, in response to an insatiable bid by investors for yield.

The embedded risk and uncertainty in the CoCo/AT1 space suggests that investors may remain wary of the asset class for now. As yet, there has been no sign of investors preparing to jump back in in order to increase their risk exposure at wider levels.
For many investment houses, 2016 was expected to be a positive turning point for financial risk, where improving global growth and a higher yield structure should have enhanced bank earnings and margins. Thus far it has been anything but though and investor rhetoric suggests that a defensive investment posture will remain the strategy of choice in the near term at least.
There is still select demand for credit risk, as highlighted by the recent defensive activity in the primary market, but the focus of investors now seems to be firmly on risk/reward, quality and correct pricing.
Note: Simon Ballard is a credit strategist who writes for Bloomberg. The observations he makes are his own and are not intended as investment advice.
Before it's here, it's on the Bloomberg Terminal.
LEARN MORE