Deutsche Bank May Write Down Postbank Again Closer to Sale
by
Bank says it's `too early' to speculate about outcomes

Deutsche Bank acquired Postbank in 2010 under Ackermann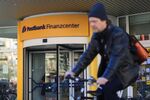 Deutsche Bank AG, Germany's biggest bank, said it may take further charges on Deutsche Postbank AG, a consumer lender in the country that it plans to sell to raise capital levels.
"Potential further impacts might occur when we are close to selling, which will also depend on the market at that time," Deutsche Bank said in an e-mailed response to questions on Wednesday. "It is too early to speculate about potential outcomes."
The bank is seeking to restore investor confidence with a plan initially unveiled in April to lift capital levels and profitability by selling Postbank and shrinking its securities unit. European bank shares have since dropped, with the 47-member Stoxx 600 Banks Index falling 37 percent. Analysts at Citigroup Inc. and Macquarie Group Ltd. have said they expect Deutsche Bank to face further charges on the sale.
Deutsche Bank may write down the value of Postbank to 2.8 billion euros ($3.1 billion) from 4.5 billion euros, Reuters reported earlier, citing unidentified people close to the finance industry.
The company wrote down goodwill and intangibles at its wider private and business clients unit by 3.6 billion euros in October to reflect expectations for the disposal of Postbank, as well as higher capital requirements.
Deutsche Bank acquired the business in 2010 as part of former Chief Executive Officer Josef Ackermann's plan to reduce its dependence on investment banking. The company wasn't able to fully tap synergies with the unit and limits on leverage made its mortgage-business less attractive, according to the bank.
Deutsche Bank shares closed at 14.58 euros in Frankfurt, up 10 percent. They have declined about 35 percent this year.
Before it's here, it's on the Bloomberg Terminal.
LEARN MORE