Debt Sweeteners Sour as Lagarde Scolding Raises Ukraine Stakes
by
Warrants tied to GDP have fallen more than 30% since November

Ukraine at risk of eventually losing IMF aid, Ashmore says
The debt instruments tied to economic growth that Ukraine used to clinch a $15 billion restructuring six months ago now reveal just how quickly investor faith in the country's outlook is unravelling.
Warrants that pay out only if expansion of gross domestic product exceeds 3 percent from 2019 have lost almost a third of their value since they started trading in November. The notes were included in the debt agreement as an incentive to convince creditors including Franklin Templeton to take a 20 percent principal writedown and accept a delay in repayment.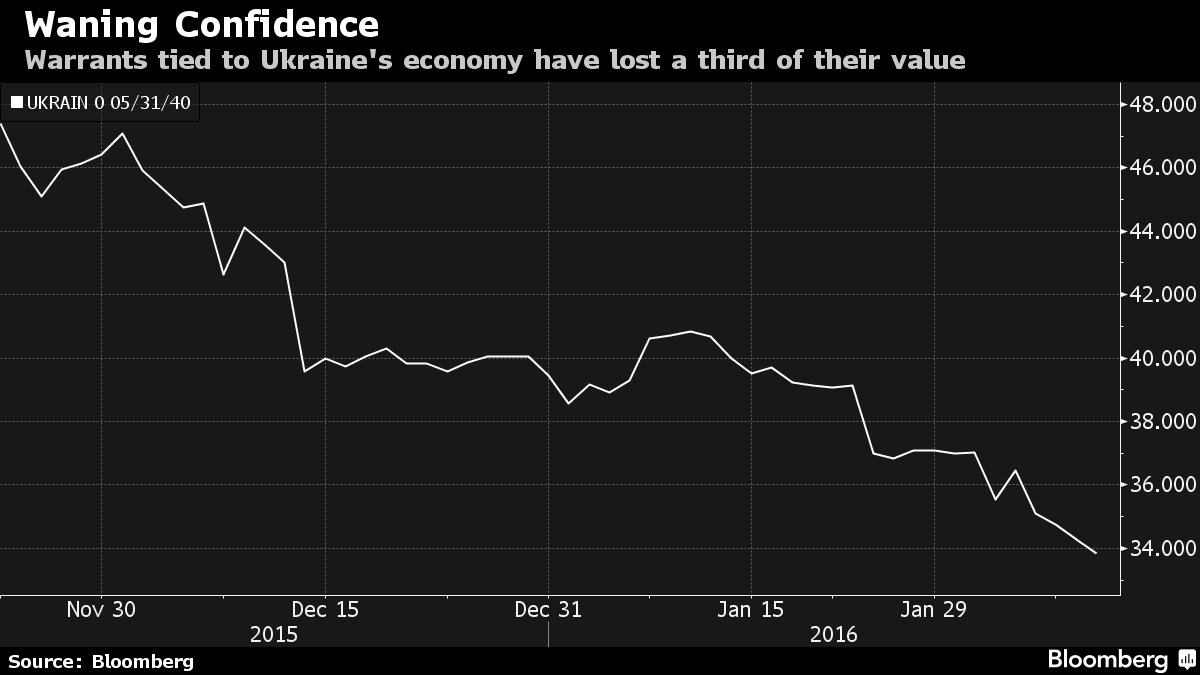 Investors have dumped Ukraine's restructured bonds since the resignation of the nation's economy minister on Feb. 3 heightened the risk that the government may fail to fulfill the terms of its $17.5 billion International Monetary Fund bailout. Ukraine's central bank more than halved this year's growth forecast to 1.1. percent and IMF Managing Director Christine Lagarde warned on Wednesday the crisis lender may withhold aid if Ukraine doesn't overhaul governance structures and combat corruption.
"This is really just the first in a sequence of blows that are going to take place over the next year or two," Jan Dehn, the head of research at Ashmore Group Plc in London, said of the minister's resignation. "It will take several of these blows before eventually Ukraine will flunk out of the IMF program and then they either have no financing at all or they have to get it from Russia."
Ashmore holds Ukraine bonds and isn't currently selling, although the warrants aren't included in its portfolio, according to Dehn.
The nation's sovereign bonds have handed investors losses of 8 percent this month, the worst among 61 countries in a Bloomberg bond index. The price of the shortest-dated note, due in September 2019, has fallen 5.9 cents on the dollar since Aivaras Abromavicius quit the government and accused presidential party members of corruption. The notes traded at 88.61 cents on the dollar as of 10:50 a.m. in Kiev on Wednesday.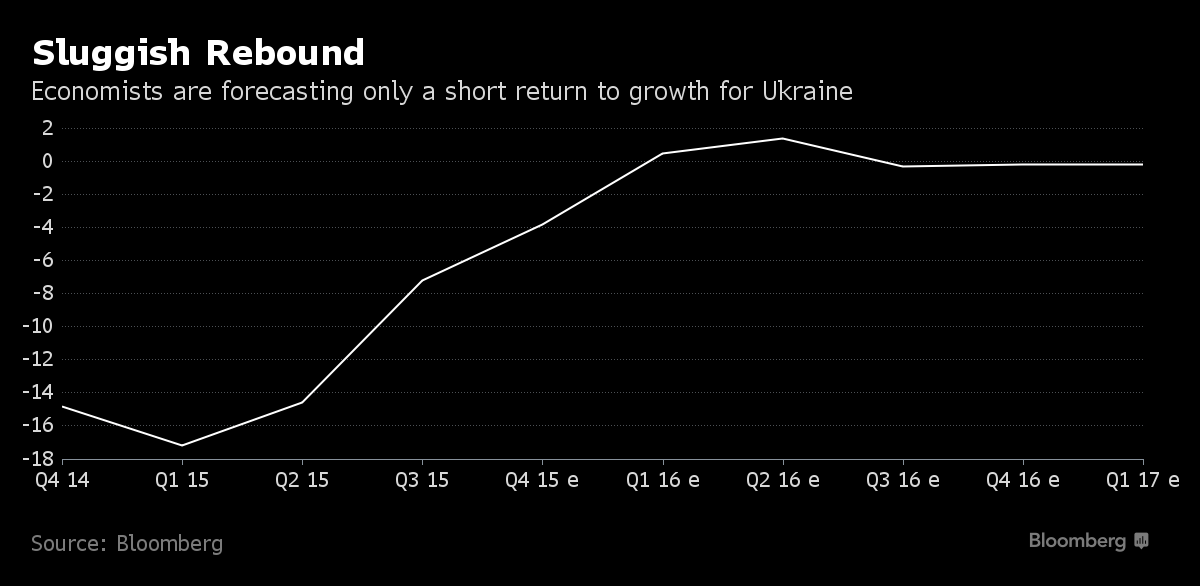 The terms of Ukraine's debt agreement were initially viewed favorably in part because of the inclusion of the warrants, which require annual growth to reach 3 percent and GDP to touch $125.4 billion. IMF forecasts as of August had indicated that the economy would be expanding fast enough by 2019 to trigger the first payment on the instruments.
Lagarde threw doubt on whether Ukraine's recovery will stay on course in her comments yesterday. It's "hard to see" how the rescue program can continue successfully without a "substantial new effort" to push through reforms, she said. In a later statement, she said Ukrainian President Petro Poroshenko reassured her in a phone call of his commitment to reforms.
Poroshenko has promised personnel changes in the government that could come as early as next week, when Prime Minister Arseniy Yatsenyuk reports to parliament on his cabinet's performance. Ukraine must show the world that it's helping itself, Yatsenyuk said in a statement yesterday, calling the current political crisis "a chance for us."
'Tactical Position'
A calming of the political situation in Ukraine is likely, analysts at JPMorgan Chase & Co. said in a research note on Wednesday that recommended taking a "small tactical position" on the bonds.
While most bonds rebounded on Thursday, the GDP warrants continued to slide, extending a decline since the minister's resignation last week to about 16 percent .
"Such a significant move lower in the warrants represents a downgrade of the market's view on Ukraine's long-term growth prospects," said Fyodor Bagnenko, a managing director for fixed-income trading at Dragon Capital in Kiev. "The recent political noise makes investors cautious about whether the much needed reforms will take place."
Before it's here, it's on the Bloomberg Terminal.
LEARN MORE