Blackstone, Carlyle Split on Buybacks After Stocks Plummet
By
Apollo chief Leon Black calls share valuation an 'absurdity'

Schwarzman: Blackstone's cash should be for funds, M&A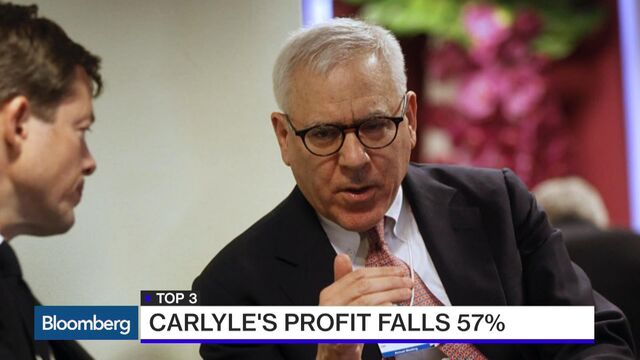 The world's biggest private equity firms don't agree on everything, including what to do when public investors are driving down their stock.
Among the seven publicly traded U.S. alternative-asset managers, four have unveiled share buyback programs since October, including KKR & Co., Apollo Global Management LLC, Fortress Investment Group LLC and -- on Wednesday -- Carlyle Group LP, with the repurchase plans collectively valued at more than $1 billion. Others, such as Blackstone Group LP and Oaktree Capital Group LLC, have so far decided against it, while Ares Management LP, which reports earnings Feb. 29, has yet to be heard from on the issue.
The crux of the disagreement between the public investment companies is how each wants to spend its cash. Blackstone, the biggest of the alternative-asset managers, would rather have all of its cash available to make strategic acquisitions and seed new funds and products, Chief Executive Officer Steve Schwarzman said Jan. 28. KKR's Henry Kravis and Apollo's Leon Black, on the other hand, say they'd rather use some cash to buy shares at what they perceive to be a discount, hoping to boost the stock price by reducing share count and showing confidence in the companies' future value.
"We see a significantly undervalued company," Black said of New York-based Apollo on a conference call last week, adding that its stock price was an "absurdity." Because the firm's executives "pride ourselves as being best-in-class investors, it's our responsibility to apply that same philosophy, diligence and commitment for our public shareholders."
KKR, run by billionaires Kravis and George Roberts, was the first mover among the group, unveiling a $500 million repurchase plan in October. Apollo last week said it will buy back as much as $250 million of stock, Fortress Investment Group LLC announced a $100 million program and Washington-based Carlyle said it will buy back as much as $200 million of shares.

Market Drop
Investment firms' stocks have taken a pummeling since the Standard & Poor's 500 Index peaked on May 21, driven by exposures to energy investments and a step-down in asset sales compared with heavy exit volumes from 2012 to 2014. While the S&P 500 declined 13 percent through Tuesday from its 2015 peak, Blackstone fell 43 percent, Carlyle lost 61 percent of its value, Apollo slid 39 percent, KKR slumped 45 percent and Fortress lost 47 percent.
"The price of the units was so low that we just really couldn't resist buying it at these prices that we currently see," David Rubenstein, Carlyle's co-CEO, said Wednesday on a conference call.
That seemed to have some short-term impact: Carlyle rose 1.5 percent to $11.86 at the close of trading in New York, even after posting fourth-quarter profit that trailed analysts' expectations.
"If share prices go up meaningfully, other firms may follow suit," said Meghan Neenan, an analyst at Fitch Ratings. Neenan said continued market volatility could weigh on the firms' stocks and mask benefits of the buybacks.
Cash for Deals
Using cash to make business acquisitions and start new funds and strategies, instead of for buybacks, could produce better returns for both limited partners and public shareholders in the long run, Blackstone's Joan Solotar, who oversees new fund offerings as well as shareholder relations, said Tuesday. Blackstone last year paid stockholders $2.73 a share in dividends from profits on its deals and other fee earnings.
"When we talk to shareholders about whether they want to continue to receive the cash or whether they really do want us to buy back stock, overwhelmingly they want the cash," Solotar said, speaking at Credit Suisse Group AG's financial services forum in Miami.
While private equity executives, including Blackstone's Schwarzman, have long lamented that their public equity is valued at low multiples of earnings, Carlyle saw a buyback plan as a way to back up its vocal belief in a higher stock value, said Curt Buser, its chief financial officer.
"We have been frustrated with our unit price for some time now," Buser said Wednesday. "It's time to put our money where our mouth is and step up."