Style Guide
Get Rid of Your 'Going Out' Shirt and Try These Options on Date Night
From Eton to The Kooples, here are nine handsome suggestions to shake up your evening wardrobe.
By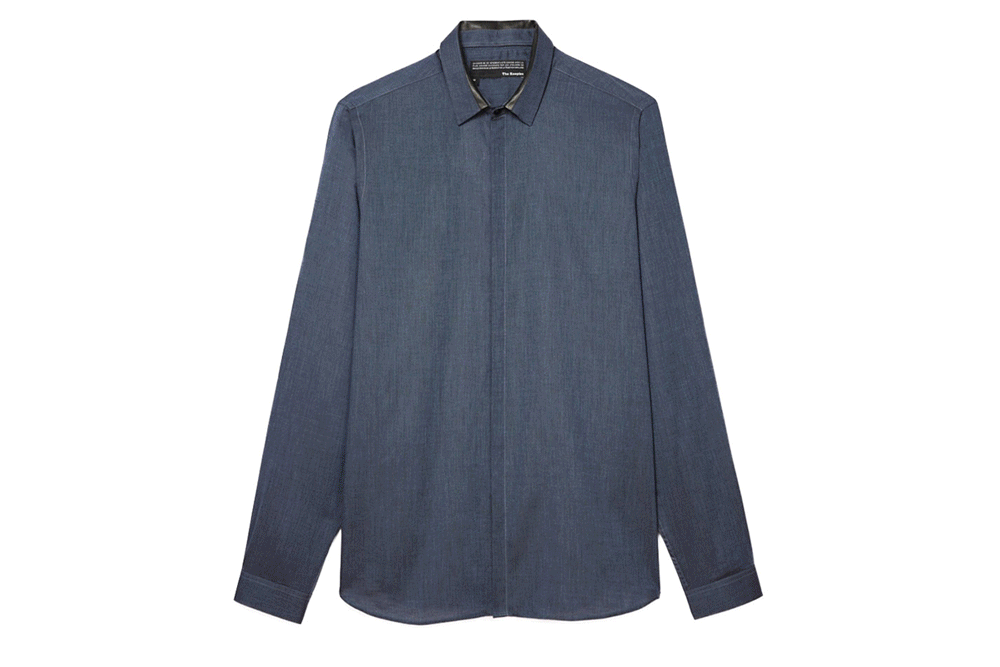 Valentine's Day is just around the corner, By now we hope you have nailed down the perfect date and a sweet gift that's not chocolate. If you haven't, well, next year. Either way, if you're going on a date soon, it's time to rethink your outfit. You know that "going out" shirt that's your go-to for a night on the town? When was the last time you swapped it out of rotation?

Top-selling, non-office-collared shirts are often made from silk blends that shine to get attention. Those are precisely the ones you should stay away from. (Gut check: Would someone wear this on The Bachelor? Then you shouldn't, ever.) Also, opt out of wearing solid black dress shirts unless you're attending a funeral—as a cater waiter—and last, don't be that guy wearing a clichéd red dress shirt on a red-themed holiday.
Mainly, you want to feel comfortable and confident during your date. Here are nine of the best date-night shirts to make you look good and feel better.
Dressy Denim

Navy denim shirt, ETON ($265, etonshirts.com)
This might look like a casual denim shirt you'd wear to a [enter favorite sport's team here] game on the weekend, but it isn't quite that. The spread collar and tailored details makes it special for a nicer evening.
Under Your Leather Jacket 

Blue plaid claremont button up, Bespoken ($195, bespokennewyork.com)
Some guys wear their favorite biker jacket on their date, which can be all right if you dress up underneath. Instead of wearing your favorite sweatshirt or two, try throwing on a graphic shirt, such as a check or plaid that's bold enough to stand out under the loud coat. Who says more than one item of clothing can't earn attention?
Think Pink

Diamond G Oxford fitted shirt, GANT ($98.50, gant.com)
The overused statement "Real guys wear pink" is true. Just stay away from anything that can pass as fuchsia or hot pink.
Bold Stripes 

Nautical Oxford, Hamilton. ($245, hamiltonshirts.com)
Business stripes are fun—for the office. If you want to wear a striped shirt on a date, this Hamilton number is a great example of what to wear after dark. A bold, slightly wide stripe lends an air of confidence. (Also, horizontal stripes are the new vertical.) 
Air Tie

Chambray shirt with collar top, the Kooples ($245, thekooples.us)
This is an easy way to dress up your shirt without adding a tie; just button it all the way up to the top of the collar. Non-hipsters do this, we promise.
Color Blocking, Done Right

Slim-fit paneled cotton shirt, Wooyoungmi ($340, mrporter.com)
A color block shirt is the new white dress shirt you wore when you went out during your college years. This shirt will impress, but you want to stick to such primary colors as black, white and gray, as opposed to bright pops of orange and yellow. Although the colors are basic, the shirt is far from it.
Throw on a Tie

Premium cotton shirt, H&M ($39.99, hm.com)
Admittedly, green is a tough color to pull off. However, this hunter cotton dress shirt is a nice, flexible shade—and a solid, muted color is a great way to wear a tie without looking as if you just came from a work meeting or are dressing up for your college basketball team's away game. (Tip: A silk-knit or wool-knit tie will help you look like you didn't just leave the office.)
Getting Graphic

The unbutton-down, Bonobos ($98, bonobos.com)
It's always fun to wear a little punch of pattern, but you don't want to wear anything too tricky or kitschy, such as bananas or flamingos. Go for a geometric pattern in neutral or muted colors, like this one by Bonobos.
Subtle Details

Orchestra shirt, Sandro ($235, sandro-paris.com) 
Sometimes, such small details as a subtle stripe on a collar can make a shirt—or a date.
Before it's here, it's on the Bloomberg Terminal.
LEARN MORE