Authentic Food Is the New Healthy Food
At KFC, "real" and hot is really hot.
By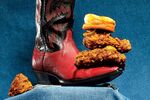 KFC's Nashville hot chicken is a reddish-hued, cayenne-and-paprika-encrusted take on the dish invented at the city's Prince's Hot Chicken Shack, which may be the only plywood-walled strip mall joint to win a James Beard award. Even the "medium" spiced chicken at Prince's will make you sweat. "We obviously couldn't do that," says Kevin Hochman, KFC's chief marketing officer. "We picked a spice level that would attract the most people."
Hot chicken made its debut in January with a TV commercial in which Colonel Sanders, played by Norm Macdonald, stood in front of a painting of the Nashville skyline and talked up the city's "legendary" fried food. In another ad, he showed slides from a trip to the city, with pictures of the Nashville airport (not the real one) and a classic diner (that doesn't exist). The faux-vintage spots fit with KFC's attempt to reposition itself as an old-fashioned restaurant—last year, it started using the Colonel as a mascot for the first time in 20 years and returned to serving chicken in its original red-and-white-striped buckets—that serves up bona fide regional specialties. "There's this push toward authenticity and eating food with ingredients you can pronounce," says Bonnie Riggs, a restaurant industry analyst at NPD Group. "It gives the perception that the food is healthier. 'Healthy' doesn't mean low-calorie or low-fat anymore; it means 'real.' " Which explains why McDonald's added a lobster roll to menus in New England last summer—and why Wendy's is offering a North Pacific cod sandwich from Portland to Portland.
KFC usually releases new menu items in the spring when the weather is better, but it's hoping hot chicken becomes a Buffalo wings alternative. The dish got its own pregame Super Bowl ad and a food truck tour of eight cities in the U.S. named Nashville. Hochman won't share sales figures—but the city ordering the most hot chicken? That'd be the one in Tennessee.
Before it's here, it's on the Bloomberg Terminal.
LEARN MORE