Asian Stocks Drop as Japan's Topix Slips Amid Global Volatility
by
Japanese benchmark index drops to lowest since October 2014

Australia enters bear market as banks extend declines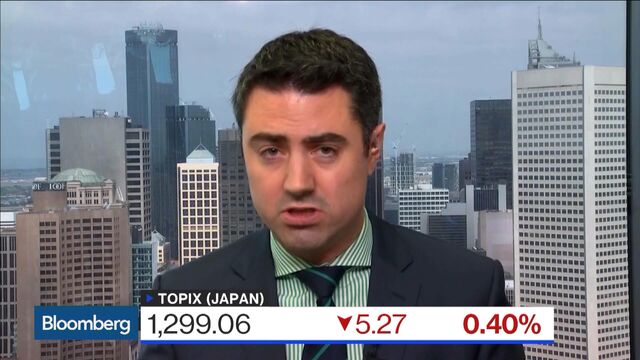 Asian stocks dropped as a week of volatile trading in global equities continued, with Japanese shares extending losses to the lowest level since October 2014 and Australia tumbling into a bear market.
The MSCI Asia Pacific Index slipped 1.4 percent to 116.49 as of 4:13 p.m. in Tokyo, poised for the lowest close since Jan. 21. Japan's Topix index had its biggest two-day drop since August as the yen strengthened and margin calls sparked a further selloff. A gauge of global equities and the Nasdaq Composite Index edged nearer to a bear market, while the Standard & Poor's 500 Index traded at the lowest since April 2014 amid declines in energy and technology shares. Crude tumbled almost 6 percent before rebounding on Wednesday.
"Contributing to the drop in oil and certainly having a large impact on the drop in equities is this growing concern about the sustainability of the recovery, the state of economic growth in China and increasingly the state of growth in the U.S.," Russ Koesterich, global chief investment strategist for New York-based BlackRock Inc., said on Bloomberg TV. "People are getting worried about the global recession, worried about growth, which is affecting not only oil and stocks but other risky assets as well."
The Topix slumped 3 percent in Tokyo as the yen traded near the strongest since November 2014. An 8.4 percent plunge over two days brought the gauge below the lowest levels of January's selloff. Traders are paying more attention to the volatility sweeping global markets than the Bank of Japan's monetary easing, with the yen climbing against almost all of the more than 150 currencies tracked by Bloomberg since the central bank embraced negative interest rates on Jan. 29.
'Triple Punch'
Japanese banks were among the biggest losers for a second day, with Mitsubishi UFJ Financial Group Inc. dropping 7.1 percent following Tuesday's 8.7 percent plunge.
"Japanese stocks are suffering from a triple punch and it's difficult to bounce back," Tomoichiro Kubota, a senior analyst at Matsui Securities Co. in Tokyo, said by phone. "We have worries over financial institutions in Europe, problems in the bond market, and concerns aren't alleviated at all. There's still a sense of wariness toward commodity-related corporate earnings in the U.S., so that's a negative, plus the yen is being favored as a place of refuge."
As global stocks near a bear market, volatility is on the rise, with the Chicago Board Options Exchange Volatility Index briefly touching a five-month high. The measure of market turbulence known as the VIX jumped 20 percent in the prior three days. A similar gauge for the Nikkei 225 Stock Average is at the highest level since August, climbing 4 percent on Wednesday after jumping 30 percent on Tuesday.
Yellen Testimony
Investors will be watching Federal Reserve Chair Janet Yellen as she testifies before the U.S. Congress on Wednesday. After the Bank of Japan's surprise move into negative interest rates largely failed to assuage market concerns, Yellen will need to calibrate her commentary carefully to avoid further fueling volatility.
Australia's S&P/ASX 200 Index fell 1.2 percent, retreating for a fourth day to the lowest level since July 2013, as resource companies and banks extended declines in a global equity rout triggered by concerns about China's economy and tumbling commodity prices. The gauge has tumbled 20 percent from its April peak, the level some traders define as a bear market.
BHP Slides
BHP Billiton Ltd., the world's biggest mining company, dropped 2.5 percent in Sydney as copper continued its decline after Indonesia recommended Freeport-McMoRan Inc. resume shipments from its Grasberg mine, potentially swelling a global glut. Fortescue Metals Group Ltd. sank 3.1 percent after Morgan Stanley said an oversupply in iron ore will endure until at least 2020.
In Tokyo, KDDI Corp. plunged 5 percent after reporting third-quarter earnings and saying its biggest shareholder Kyocera Corp. would sell a part of its stake back to the mobile carrier. SoftBank Group Corp. lost 3.5 percent as the cost to insure the carrier's debt against default surged to the highest since June 2010.
New Zealand's benchmark gauge dropped 0.9 percent. Singapore's Straits Times Index declined 2.3 percent while the FTSE Bursa Malaysia KLCI Index fell 0.8 percent, with the markets resuming trading following an extended weekend Lunar New Year holiday. The Jakarta Composite Index slipped 0.8 percent, while the Philippine Stock Exchange Composite Index lost 0.2 percent. Markets in South Korea, Hong Kong, China, Taiwan and Vietnam remain shut.
U.S. Shares
E-mini futures on the S&P 500 Index gained 0.1 percent. The U.S. equity benchmark index fell 0.1 percent on Tuesday, after erasing a 1 percent loss and climbing as much as 0.8 percent. The Nasdaq Composite Index fell 0.4 percent after lurching between gains and losses.
Oil snapped a four-day losing streak, rebounding from the lowest close in almost three weeks before U.S. crude inventory data. U.S. crude inventories are forecast to increase by 2.85 million barrels, according to a Bloomberg survey before government data on Wednesday.
Before it's here, it's on the Bloomberg Terminal.
LEARN MORE