Zenefits CEO Conrad Resigns Amid Regulatory Compliance Issues
by
Startup says it had `inadequate' compliance under former chief

Chief Operating Officer David Sacks takes company leadership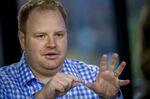 Corporate software startup Zenefits said Parker Conrad has resigned as chief executive officer, citing "inadequate" processes and regulatory compliance. David Sacks, Zenefits's chief operating officer and a former Microsoft Corp. executive, will take over as CEO of the human-resources software maker.
Zenefits hired an accounting firm in December to conduct a review of the company's licensing procedures, Sacks wrote in a memo to employees. Joshua Stein, the vice president of legal, will oversee the review as chief compliance officer.
"The fact is that many of our internal processes, controls, and actions around compliance have been inadequate, and some decisions have just been plain wrong," Sacks wrote. "In order for us to move forward as a company, we cannot seek to hide or downplay the problem."
Conrad, who co-founded Zenefits in 2012, didn't immediately respond to a request for comment.
The controversy and abrupt change in leadership are a blow to a fast-growing startup that investors valued at $4.5 billion last year. Fidelity Investments has written down the value of its shares in Zenefits by as much as 22 percent. Technology companies are facing more scrutiny as investment into Silicon Valley begins to cool.
As part of the changes on Monday, Zenefits appointed three new board members, including Peter Thiel, a venture capitalist who co-founded PayPal. BuzzFeed reported last week that about 80 percent of insurance policies sold or serviced by the company in Washington violated that state's rules.
Before it's here, it's on the Bloomberg Terminal.
LEARN MORE