UniCredit Backs CEO Ghizzoni as Bank Posts Quarterly Profit
By and
Earnings boosted by a tax benefit of 640 million euros

Shares widened declines after earnings were released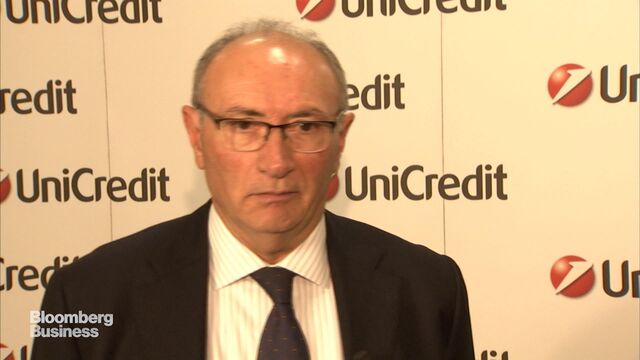 UniCredit SpA said its board unanimously backs Chief Executive Officer Federico Ghizzoni, rebuffing shareholders who have called for a change in management.
The comments came in a regulatory statement Tuesday after Italy's biggest bank said fourth-quarter profit fell on one-time charges related to the lender's reorganization and its share of costs for winding down four Italian banks.
Ghizzoni, who is cutting thousands of jobs, curbing risk and disposing of non-strategic assets, is under pressure from some investors urging a deeper revamp. Leonardo Del Vecchio, chairman of Luxottica Group SpA, who holds a stake in the Italian lender, said Monday that a change in leadership may be the only way to achieve this.
Net income declined to 153 million euros ($172 million) from 170 million euros a year earlier, beating the average analyst estimate compiled by Bloomberg, which was for a loss of about 77 million euros. Earnings were boosted by a 640 million-euro tax benefit.
UniCredit is struggling to boost profit margins under pressure from record-low interest rates and stricter capital rules, a task compounded by a complex structure spread across 17 countries. Ghizzoni approved a new strategic plan in November, just a year after his previous overhaul, that focuses on cost-cutting and streamlining.
 
It was not "all good news in core profitability," said Benjie Creelan Sandford, an analyst at Nomura with a neutral rating on the stock. Provisions were higher than expected and commissions disappointed, he said.
Capital Improvement
Shares fell 7.9 percent to 2.77 euros before being halted in Milan trading, giving the bank a market value of about 16.55 billion euros. UniCredit has declined 44 percent this year compared with a 30 percent drop in the Euro STOXX Banks Index.
The bank plans to pay a stock dividend with a cash option of 12 cents a share.
UniCredit's common equity Tier 1 ratio, a measure of financial strength, rose to 10.94 percent under fully-loaded Basel III rules as of Dec. 31, from 10.53 percent at the end of September. That's above the 10 percent required by regulators, which includes a 25 basis-point buffer for systemically important banks.
The implementation of our plan is well on track and "we are strongly committed to cost
reduction," Ghizzoni said in the statement. "Asset quality is constantly improving, impaired and bad loans are firmly under control with high coverage ratios."
UniCredit booked 173 million euros to pay for the rescue of four regional banks announced in November. It also posted of costs 214 million euros related to the restructuring plan and charges related to the sale of its Ukraine unit.
The lender set aside 1.22 billion euros to cover loan losses in the quarter, compared with 1.7 billion euros booked a year earlier. Total revenue were almost unchanged from a year earlier to 5.59 billion euros.