World's Top-Performing Bourse Operator Seeks Life Beyond Metals
by
`We're taking a wait-and-see approach on how they execute'

Trading volumes, financings plummet amid resource rout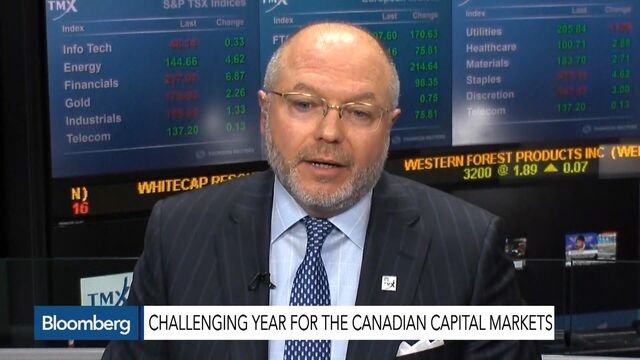 TMX Group Ltd. is outperforming its global peers this year as investors see a glimmer of a turnaround at the Canadian exchange operator as it tries to diversify beyond its traditional resource base.
Shares of Toronto-based TMX, which owns and operates the Toronto, Venture and Alpha stock exchanges, along with a securities clearing house and derivatives markets, are up 8.6 percent this year as of Feb. 8, outpacing 26 peers in the Bloomberg World Exchanges Index, including London Stock Exchange Group Plc and Nasdaq Inc.

The nascent rebound comes as Chief Executive Officer Lou Eccleston, 58, fights back from an almost 30 percent slump in the operator's shares last year with plans to win back equity-trading market share, invest in new products such as data analytics and cattle trading, and shake up its struggling junior Venture exchange.
"Since 2014, when Lou Eccleston has come in, it's had a strategic shift with a bit more of a focus on being a technology-solutions company and monetizing all the data that comes out of its listings business, which has promise," said Craig Senyk, fund manager with Mawer Investment Management in Calgary. His firm manages about C$34 billion ($24 billion), including shares of TMX. "It's an interesting strategic shift and we're taking a wait-and-see approach on how they execute that strategy."
Shane Quinn, a spokesman for TMX, declined to comment on the company's stock performance or strategy, with the company set to report fourth-quarter earnings Feb. 11. Shares of TMX dropped 1.5 percent on Tuesday.
Cattle Trading
Eccleston, previously chairman of S&P Dow Jones Indices and a former executive at Bloomberg News parent Bloomberg LP, introduced the AgriClear cattle-trading platform last year and a plan to develop a data-analytics service to give clients tools to analyze information from its trading operations. The company has also sold its Equicom investor-relations unit and weighed what to do with other ancillary businesses including its Box U.S. options exchange unit.
Eccleston hired Nicholas Thadaney from financial technology firm ITG Canada to oversee TMX's equity listings and trading activity, which have plummeted amid the country's slumping resource market.
Thadaney has his work cut out for him. The company's benchmark equity gauge, the Standard & Poor's/TSX Composite Index, fell 11 percent last year amid a transition away from its legacy of energy and mining companies. Companies from outside the natural-resources industry made up the highest percentage of new listings since the technology boom of 1998, according to TMX data compiled by Bloomberg.
Volumes Shrink
Still, trading activity has shrunk. Volumes across all TMX equities marketplaces fell 20 percent in January from a year ago, according to TMX data. Trading on the Venture, which is dominated by junior resource companies, fell 28 percent and now makes up only 15 percent of all activity, according to historical data from the Investment Industry Regulatory Organization of Canada. That compares with 35 percent when the commodity bull market was in full swing in 2007.
Initial public offerings are also off to the weakest start to the year in 20 years. Not a single company has listed in Canada this year as of Feb. 8, according to data compiled by Bloomberg. Total financings, which include secondary and supplemental issues as well as listings of Exchange Traded Funds, dropped 33 percent in January to C$1.6 billion compared with a year ago, TMX data showed.
"By any measure, the TSXV has deteriorated precipitously in the past five years," Ian Russell, chief executive officer of the Investment Industry Association of Canada, said in a January letter to the group's members.
Venture Pain
TMX published a paper in December outlining its goals to revitalize the Venture including reducing costs, expanding the investor base to increase liquidity and diversifying listings. It will hold town hall meetings with clients across Canada in early 2016 to generate ideas, the company said in a release.
The bourse operator is also feeling the heat of competition. Its market share in Canada, based on volume of shares traded, slid to 67 percent at the end of 2015, from about 80 percent in 2013, according to IIROC industry data.
New competitors last year included Aequitas Innovations' Neo exchange, which secured its first listing in January, and Nasdaq, which claimed a foothold in Canada after closing on its acquisition of Chi-X Canada last week.
"The stock looks oversold, but given competitive overhang and a challenging market backdrop and little in the way of sustainable near-term catalysts, we are remaining on the sidelines," Scotia Capital Analyst Phil Hardie said in a Feb. 1 note to clients while lowering his 2016 and 2017 earnings estimates for TMX. He's one of four analysts who rates the company a hold. The stock also has a sell, and no buys.
Yield Play
"So far, there's been more plan than execution," said Paul Holden, an analyst at Canadian Imperial Bank of Commerce World Markets, in a phone interview from Toronto. He rates TMX a hold. Holden lowered his price target for TMX stock to C$50 from C$58.50 while also cutting his earnings estimates for 2016 and 2017 in a Feb. 8 note to clients.
The stock remains one of the cheapest on the Bloomberg World Exchanges Index, when measured by its price-earnings ratio. It trades at about 13 times earnings, compared with the 21.1 average of its peers in the gauge.
It does offer some relative stability in an uncertain market while paying an attractive 4 percent dividend yield, Mawer's Senyk said.
"We have some confidence but we don't know what things will look like on the other side," Senyk said. "There's potential in the data side. We can't see a scenario where it isn't the dominant exchange in Canada. We're not impatient."
Before it's here, it's on the Bloomberg Terminal.
LEARN MORE