Taiwan Rescuers Race Against the Clock as Quake Toll Rises to 41
by
Rescuers bring in heavy machinery to speed up the search

Death toll climbs to 41 with more than 100 still missing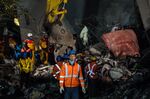 The death toll from Taiwan's earthquake rose to 41 as rescuers mobilized heavy machinery Tuesday to dig through the rubble of collapsed high-rise buildings for survivors, in a race against the clock more than 72 hours after the temblor struck the island's southwest.
Search efforts centered on a toppled 17-story residential tower in the city of Tainan from which more than 100 people remained missing, according to the local government. Rescuers combing the debris overnight found a 26-year-old mother holding her four-year-old son in her arms, both dead, according to the United Daily News.
About 103 of an estimated 300 or more people who lived in the high-rise were trapped when it crumbled, according to a statement on the southern city's website. Efforts to dig through the rubble in the city that is home to chip-making suppliers to companies like Apple Inc., were hampered on Monday when authorities suspended the use of heavy machinery due to safety concerns.
"The use of heavy machinery is not to give up on those still waiting to be saved, but to open up new chances," the local newspaper cited Tainan City Mayor Lai Ching-Te as saying.
Disaster Struck
The 6.4-magnitude quake struck an area in the island's southwest at 3:57 a.m. local time on Saturday and came at the start of the Lunar New Year holiday, a time when many people travel. The island's fire agency said that more than 530 people were injured when nine buildings buckled during the temblor.
Taiwan is prone to quakes because it's near the convergence of two tectonic plates -- the Philippine Sea Plate and Eurasia Plate. There have been about 79 quakes greater than 4.5 in the area since the beginning of last year, according to the U.S. Geological Survey.
The epicenter of Saturday's temblor was in Kaohsiung, about 300 kilometers (185 miles) southwest of Taipei, at a depth of 16.7 kilometers, according to the Central Weather Bureau website. There were at least 40 aftershocks.
Before it's here, it's on the Bloomberg Terminal.
LEARN MORE