U.S. Stock Rally Fades as Commodity Shares Slip; Dollar Weakens
By and
S&P 500 reverses gain in afternoon trading as miners slide

Yellen's dovish testimony sparked a rally earlier in the day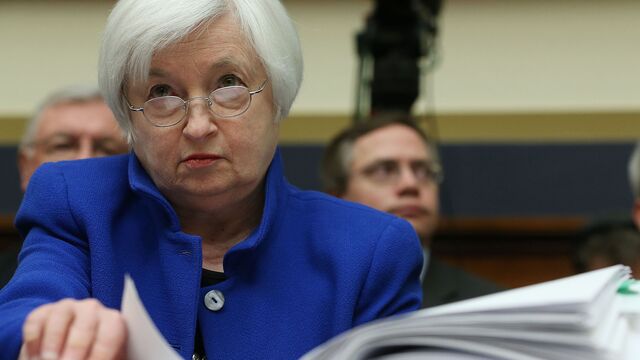 The rally in U.S. stocks evaporated in the final hour of trading as speculation that the Federal Reserve will hold off on raising interest rates gave way to renewed concern over the strength of the American economy. The dollar fell, while Treasuries rose.
The Standard & Poor's 500 Index capped a second day of volatile trading virtually where it began, after the gauge erased an advance that topped 1.5 percent at its height. Fed Chair Yellen signaled financial-market volatility could delay rate increases as the central bank assesses the impact of recent turmoil on domestic growth. Ten-year Treasury yields broke below 1.70 percent after an auction drew the lowest rates since 2012. The dollar dropped to its lowest level since November versus major peers. Oil fell to a three-week low.

Yellen's testimony before Congress did little to quell market volatility, with the central bank chief saying the Fed still expects to raise rates gradually while making it clear that continued turmoil may alter forecasts. She highlighted uncertainty over the pace of China's growth and the related rout in commodities, concerns that have roiled financial markets throughout the year and twice pushed global shares to the brink of a bear market.
Markets buckled earlier this week as Deutsche Bank AG sparked concern European bank creditworthiness was weakening as oil's rout took U.S. crude below $28 a barrel. While central banks from Japan to Europe have signaled additional stimulus is at the ready, market volatility has intensified in recent weeks. Yellen's acknowledgment that the ructions have clouded global growth added to the anxiety.
"She's not oblivious to what's happening in the global economy and financial markets, as well as the stress of financial institutions," James Abate, who helps oversee $1 billion as chief investment officer at Centre Funds in New York, said by phone. "She essentially is trying to stick with the premise that the economy is improving but perhaps not at the rate they anticipated and only warrants gradual rate rises."
Stocks
The S&P 500 was little changed at 1,851.86 as of 4 p.m. in New York, after rising as much as 1.5 percent during the session. The Dow Jones Industrial Average fell 0.6 percent as Walt Disney Co. shareholders overlooked a record quarter for sales and earnings and instead focused on flagging profits at its ESPN sports network. Bank shares fell fastest in the final hour of trading as sentiment shifted.
Yellen's testimony took equities off their morning highs after she said that market fears of a recession are showing up in asset prices. The comments reflected a concern that has hung over equity markets all year: whether the evaporation of wealth in share prices could bleed into the economy, sour consumer confidence and restrain spending. Almost $3 trillion of equity value has been erased as declines in the S&P 500 swelled to as much as 9.4 percent this year.
"It's really just acknowledging that we've had a 10 percent drop, and it is negative at the margin for growth, and if that continues it will slow down the pace of hikes," said Aneta Markowska, chief U.S. economist at Societe Generale in New York. "The Fed looks at equities as almost an exogenous factor that will play into their policy decisions."
The Chicago Board Options Exchange Volatility Index slid 4 percent to 25.48, snapping a four-day increase that saw the measure climb 23 percent. The gauge of price swings, which has surged 39 percent in 2016, is almost double its two-year average of 15.88.
Twitter Inc. shares slumped more than 12 percent in after-market trading, before rebounding, as the social media company reported earnings.
Bonds
Benchmark 10-year notes rose with yields at 1.67 percent, the lowest level in a year. Two-year note yields were little changed at 0.69 percent, after the difference between two- and 10-year rates fell to the narrowest on an intraday basis since January 2008.
"She has done a good job of not taking any of her options off the table," said Guy Haselmann, head of capital-markets strategy at Bank of Nova Scotia in New York, one of the 22 primary dealers that trade with the Fed. "She's in a wait-and-see mode. At the same time she has to acknowledge what the credit markets are sort of indicating, that there is some tightening of financial conditions."
An investor group that owns about $1.6 billion of Puerto Rico senior sales-tax bonds is proposing a plan that would allow them to be repaid in full rather than accept the discounted amount the commonwealth has offered under its restructuring proposal.
Commodities
Oil slipped back below $28 a barrel in New York amid speculation that crude inventories will resume their gains after an unexpected decline. The Energy Information Administration said supplies dropped 754,000 barrels last week. A 3.2 million barrel stockpile gain was projected by analysts surveyed by Bloomberg. West Texas Intermediate crude for March delivery sank 1.8 percent to $27.45 a barrel.
Explorer Anadarko Petroleum Corp. slashed its dividend, joining a list of drillers cutting investor payments and spending as they seek to preserve cash. The CBOE Crude Oil Volatility Index, which measures expectations of price swings, rose to the highest level since 2009 on Tuesday.
Gold futures fell 0.3 percent to $1,194.60 an ounce Wednesday, paring a 13 percent gain for the year, more than any other raw material tracked by the Bloomberg Commodity Index and the metal's best start since a 24 percent gain in 1980 over the same period.
Currencies
The Bloomberg Dollar Spot Index slipped 0.3 percent for a third day of declines.
The yen climbed 1.5 percent to 113.35 per dollar, reaching the highest level since 2014. Japan's currency has climbed against almost all of the more than 150 currencies tracked by Bloomberg since the central bank embraced negative interest rates on Jan. 29. The prospect of the Bank of Japan either stepping in to sell yen or cut rates is a growing risk, HSBC Holdings Plc says.
A gauge of global currency price swings closed at its highest since June 2012 on Tuesday, before Yellen testified to the House Financial Services Committee. Implied one-month volatility for the euro versus the dollar rose to a two-month high on Wednesday while a similar measure of swings for the yen against the greenback remained near the highest since July 2013.
Emerging Markets
The MSCI Emerging Markets Index rose for the first time in three days, adding 0.1 percent. A gauge of 20 currencies halted a three-day slide, with Russia's ruble and Argentina's peso climbing at least 1 percent. Stocks in Hungary and the Czech Republic led the rebound in equities.
Venezuela bonds slumped for the third straight day amid concern the South American nation is close to defaulting after a local newspaper said a government official had proposed stopping payments on foreign debt.