Rwandan President Kagame Says Term Extension Healthy for Country
Nafeesa Syeed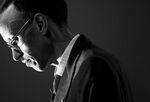 Rwandan President Paul Kagame said he had brought increased stability to the East African nation since he took office 16 years ago and extending his rule would be healthy for the country.
Kagame announced Dec. 31 he will seek re-election in a vote scheduled for next year after voters approved a change to the constitution to allow him to seek a third term.
"It's is very much healthy for Rwanda as far as this is the choice of Rwandans," Kagame said at a conference Tuesday in Dubai. "I don't see any problem."
Kagame, 58, has governed the East African country since 2000, after he led a rebel army that ended the 1994 genocide in which 800,000 people were killed.
Before it's here, it's on the Bloomberg Terminal.
LEARN MORE