North Korea Undeterred as Kim Seeks Rocket Able to Hit U.S.
by and
Technology in launch is applicable to long-range missile plans

Latest launch saw condemnation from China, U.S. and Russia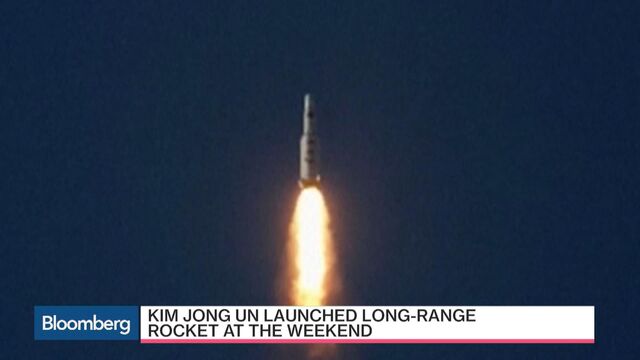 Kim Jong Un can't be deterred. The North Korean leader, whose Feb. 7 long-range rocket launch drew condemnation from China, Russia and the U.S., showed again that global criticism and the threat of more sanctions won't sway him from his ultimate goal: building a missile that can strike the U.S.
United Nations Security Council representatives met soon after the launch and vowed to adopt new restrictions on North Korea. China, the country's biggest trading partner, criticized the launch, while South Korea and the U.S. said they would discuss deploying new defensive systems on the peninsula. That won't stop Kim.
"Their principle objective is to have the ability to be able to threaten the U.S. homeland with nuclear attack," said Joseph DeThomas, a former U.S. Deputy Assistant Secretary of State for Nonproliferation.
While missile technology experts say North Korea is years away from achieving the technical sophistication to wage a nuclear strike on American soil, the launch by the isolated nation was a step forward, carrying a payload double the weight of the previous launch.
ICBM Reach
An attack against the U.S. by Pyongyang requires an intercontinental ballistic missile that can travel farther than 3,400 miles (5,500 kilometers) while carrying a warhead weighing at least one ton. In order to cover such distances, the self-guided munition must travel through outer space and re-enter the atmosphere, all while keeping the warhead stable for detonation upon contact.
That's a tall order for a country as isolated internationally as North Korea. Yet the country is working to develop a missile called Taepodong-2 with a range of 10,000 kilometers (about 6,200 miles), according to South Korea's Defense Ministry. The rocket used this week showed technological developments "applicable to North Korea's other long-range missile programs," U.S. Defense Intelligence Agency Director Vincent Stewart said in a statement prepared for delivery Tuesday to the Senate Armed Services Committee.
In addition, the country's restarted enrichment facilities have been operating long enough that they "could begin to recover plutonium from the reactor's spent fuel within a matter of weeks to months," according to an advance summary of the Worldwide Threat Assessment statement by the U.S. intelligence community. The regime in Pyongyang has conducted four nuclear tests over the years in the face of UN sanctions, most recently last month.
No Surprise
The U.S. says it has the capacity to defend against a North Korea attack. "Our posture right now is adequate to the challenge" posed by North Korea, Pentagon spokesman Peter Cook said Feb. 8. "There's nothing about this launch this weekend that comes as a surprise to the Department of Defense."
The Pentagon is working to perfect and expand a $34 billion ground-based system intended to defend the continental U.S. from ballistic missiles that could be launched by countries such as North Korea or Iran. The system's missile interceptors are in silos on military bases in California and Alaska. Raytheon Co., Boeing Co. and Orbital ATK Inc. are the major contractors on the system.
South Korea's Defense Ministry said the rocket successfully put a satellite into orbit, though it has yet to verify if it is operating normally, Yonhap News reported. North Korea is also presumed to be in possession of a projectile with a range of as much as 12,000 kilometers -- able to reach the east coast of the U.S. -- Yonhap said, citing the ministry.
Kim is willing to risk the wrath of the U.S., his Chinese patrons and the global community because his regime views long-range nuclear capabilities as an essential survival mechanism, according to Terence Roehrig, a professor of national security affairs at the U.S. Naval War College in Newport, Rhode Island. And while China said it regretted the launch, it has repeatedly stood against any significant tightening of sanctions to avoid creating chaos on part of its border.
Cautious China
That reality eases the pressure on Kim and limits the options for his opponents.
"Pyongyang will not give up its nuclear weapons," Roehrig said. "The priority must now shift to limiting the growth of its arsenal."
Bruce Bennett, a senior defense analyst at Rand Corp., said North Korea, without outside help, may be several years away from being able to pose a direct threat to the U.S., "but probably not more than about three to five years."
U.S. Secretary of State John Kerry failed last month during a visit to Beijing to secure China's support for tougher sanctions, with the countries agreeing only to pursue a new UN Security Council resolution. The U.S. has sought measures such as bans on oil exports to Pyongyang. China shares a 1,400-kilometer-long border with North Korea and supplies most of its energy and food imports.
"There is a lot of 'head room' in the North Korea sanctions program -- in terms of much more that the U.S. and the UN could have done, but have not," said Adam M. Smith, former senior adviser to the director of the U.S. Treasury Department's Office of Foreign Assets Control. "This is due to a fairly complicated set of reasons involving both an absence of political will on behalf of the major powers and some challenges in implementing sanctions on a country with a very limited external economy."
China would need to endorse stronger action to bring Kim and his weapons program to heel, said Ralph Cossa, president of the Pacific Forum CSIS in Honolulu.
"We need to break the cycle," Cossa said. "The best way to do this is to spell out in advance the consequences of the next provocation, so that the next action brings us together rather than provides yet another opportunity for Pyongyang to divide and conquer."
Before it's here, it's on the Bloomberg Terminal.
LEARN MORE