Nomura CEO Sees Buyback Chance After Shares Hit 3-Year Low
by
`It's better for us to do it when they're cheap,' Nagai says

Refrains from pledging overseas profit goal during `rainstorm'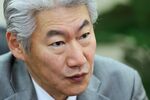 Nomura Holdings Inc., Japan's largest brokerage, is weighing buying back its shares after they plunged to the lowest price in three years.
"We're considering returning profit appropriately" to shareholders, Chief Executive Officer Koji Nagai, 57, said in an interview in Tokyo on Tuesday. "There's no doubt that it's better for us to do it when they're cheap."
The Tokyo-based firm has tumbled about 24 percent this month after it posted earnings that missed estimates and refrained from announcing the repurchase of its shares, unlike smaller competitor Daiwa Securities Group Inc. Recent global financial-market turmoil has dealt a blow to Nomura's ambitions to return to profit abroad, and Nagai said that now isn't the time to make a prediction for when that might happen.
"There's no point discussing such topics during this rainstorm, unfortunately," he said. "That's something we can talk about in normal times. We have to monitor the situation carefully under these circumstances."
Nagai said the market volatility is affecting Nomura's overseas wholesale business, including fixed income, as well retail operations at home.

The benefits of Abenomics have faded for Japan's brokerages. Nomura's shares are now close to the price they were at when Shinzo Abe became prime minister in December 2012 and sparked a stock-market rally with his agenda of reviving the economy through monetary easing, fiscal spending and deregulation.
The stock fell for a seventh day Wednesday, slumping 3 percent to 494.9 yen as of 11:05 a.m. in Tokyo. That's lower than when Nomura sold 454 billion yen ($4 billion) of shares in a public offering in 2009 to help fund an expansion abroad stemming from its purchase of Lehman Brothers Holdings Inc.'s European and Asian operations in the previous year.
Nomura is trading at 0.63 times the book value of its assets, while Daiwa's price-to-book ratio is 0.87. Daiwa fell 1.9 percent.
Cut Costs
Nagai declined to comment on the timing and the size of any buyback. Chief Financial Officer Shigesuke Kashiwagi said on Feb. 2 that the company wouldn't rule out repurchasing its shares if the timing is right. Nomura has announced five buybacks since May 2013.
The firm will cut costs overseas by trimming jobs and shrinking unproductive operations, Nagai said, declining to elaborate. At the same time, the company will continue to invest more in the U.S. to strengthen its capacity to originate investment-banking deals, including equity and bond underwriting and mergers advice, he said.
Nomura postponed a goal of generating 50 billion yen in overseas pretax profit for the year ending March after its latest results released on Feb. 2 showed it lost 63 billion yen abroad in the first nine months. CFO Kashiwagi said he expects the target to be achieved at some point before March 2020.
Before it's here, it's on the Bloomberg Terminal.
LEARN MORE