Money-Market Calm Belies Risks Seen in European Bank Credit
By
Interbank funding rates hold steady even as bank stocks fall

ECB monetary stimulus has improved stability among banks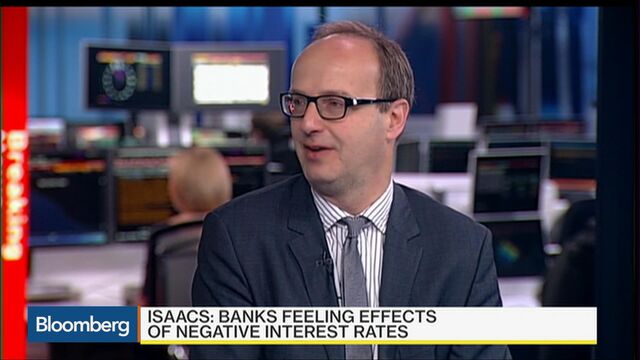 As European banking stocks plunge and Deutsche Bank AG seeks to reassure its investors that it can afford to repay its debt, stable lending rates between banks indicate that this isn't yet a repeat of the region's financial crises.
While two-year euro interest-rate swap spreads -- the difference between what governments pay to borrow and what banks pay -- climbed to 35.1 basis points on Monday, they are only the highest since August. The spread, which acts as a proxy for bank risk, compares with the five-year average of around 49 basis points and is far below the height of the 2008-to-2009 financial crisis, when the spreads exceeded 120 basis points.
The euro overnight index average, or Eonia, rate has consistently fallen as monetary easing by the European Central Bank increases the liquidity lenders have access to.

"There are plenty of measures from the ECB to avoid problems in the money market," said Christian Reicherter, an analyst at DZ Bank AG in Frankfurt. "The equity markets are drawing a different picture than the money markets. Liquidity constraints won't be a problem for the European banking sector, because of the current ECB policy."
During the financial crisis and the 2012 sovereign debt crisis funding costs jumped as lending between banks seized up. Since then, regulation has been introduced to try to make the financial system safer and reduce the likelihood of a repeat crisis. As strains in emerging markets, credit and particularly at Deutsche Bank put these rules to the test, the ability of more institutions to receive funding from central banks has helped mitigate funding concerns.
Goldman Sachs Group Inc. said European banks now have ample liquidity and that there is no evidence of strain in the euro funding, damping the chances of a similar crisis.
The risk is that a slowing global economy will also slow loan growth, increase credit risk and diminish the outlook for bank earnings. This could make it more difficult for banks to meet their capital requirements, relied upon in times of stress. However, central bank operations including targeted long-term loans and emergency liquidity assistance provide a backstop that makes the need for banks to raise their own capital less critical.
Though there are some signs that all is not entirely well. 

The difference, or spread, between the rate banks lend to each other overnight and in three months jumped the most since March 2013 on Monday. It reached the widest since June amid concern that banks' solvency may deteriorate, thereby restricting their ability to repay longer-term loans.
Deutsche Bank is "absolutely rock-solid," Co-Chief Executive Officer John Cryan wrote in a letter to employees. Cryan said he isn't concerned about the Frankfurt-based lender's ability to meet legal costs, he wrote in the memo published on Tuesday.