Modi Can Slightly Miss India Deficit Goal, Ex-RBI Chief Says
by
`The second digit in fiscal deficit doesn't matter': Jalan

Rajan warned that bond yields may rise if budget gap missed
Investors will understand if Prime Minister Narendra Modi deviates slightly from a path to narrow India's budget shortfall to boost growth, according to former central bank governor Bimal Jalan.
Asked if Modi will lose credibility with market players if he doesn't stick with a plan to shrink one of Asia's widest fiscal deficits to 3.5 percent of gross domestic product in the year starting April 1, Jalan replied: "Not at all."
"The second digit in fiscal deficit doesn't matter," Jalan, who heads a panel that advises Modi's government on spending, said in an interview in New Delhi on Tuesday. "You take a view whether it is high or low and where is it going."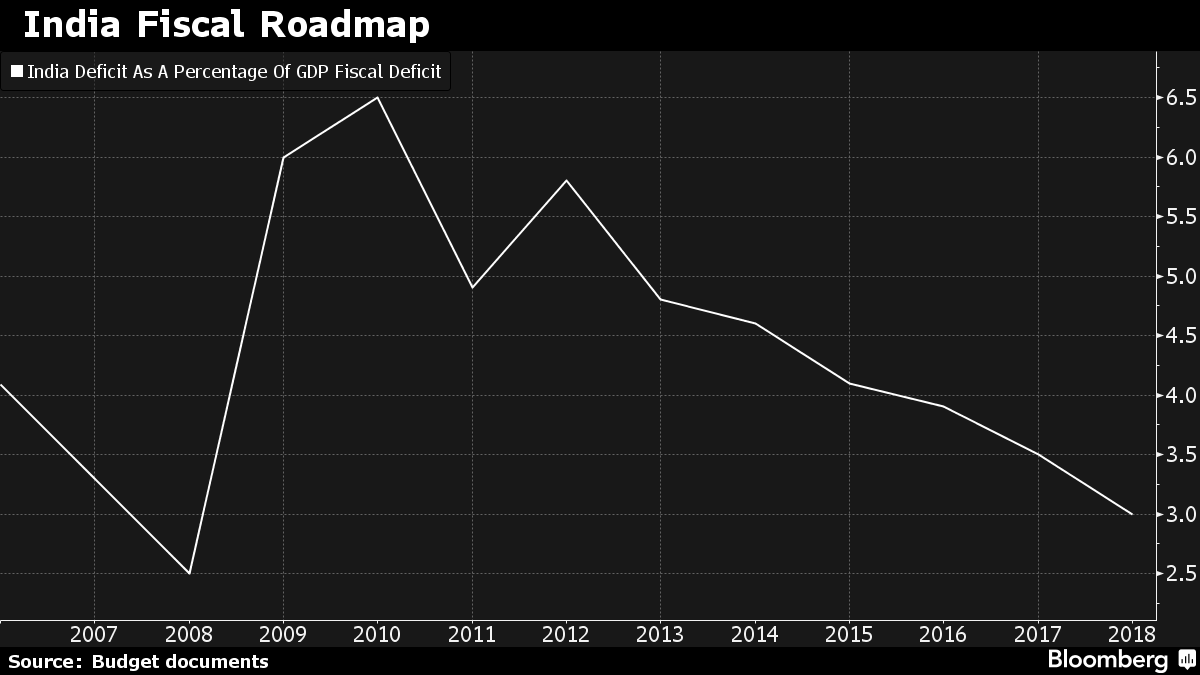 Current central bank Governor Raghuram Rajan warned last month that investors might demand higher yields for sovereign debt if Modi's government missed the target. The rupee, sovereign bonds and stocks posted their steepest January losses since 2011 as concern mounted that a higher wage bill and increased public spending would derail Modi's deficit-reduction plans.
A disciplined budget accompanied by difficult structural reforms has proven to be better for the economy over time than profligate spending, Rajan said in the speech. "I am reminded today of the period 1997-2002, when India labored and reformed with only moderate growth, only to see a decade of high growth after that."
Jalan, who ran the Reserve Bank of India from 1997 to 2003, called for changes to a law that requires governments to state a specific fiscal deficit target as a percentage of GDP. The law, known as the Fiscal Responsibility and Budget Management Act, must be amended to deviate from the path.
'Reasonable Range'
"We shouldn't lay down the statutory target in advance," Jalan said. "Whether it is 3.5 percent or 3.7 percent doesn't matter as long as it is in a reasonable range."
Last year, Finance Minister Arun Jaitley amended the law to push back deficit reduction plans by a year to boost spending on building roads, highways and ports. The new roadmap calls for a shortfall of 3.9 percent of GDP in the year through March, 3.5 percent in the next 12 months and 3 percent by March 2018.
Economists surveyed by Bloomberg expect Jaitley to meet this year's target while slightly pushing back next year's goal to 3.6 percent of GDP. Modi's chief economic adviser said in December that a proposal to increase salaries for government employees would make fiscal consolidation "challenging."
Jaitley has sought to raise more revenue from India's state-run companies through dividends and share buy-backs.He is also looking to expand the use of cash transfers to save money on fuel and food subsidies for the poor.
After 2018, the government should set a broad range for the fiscal deficit target, similar to what the central bank does for inflation, Jalan said.
"If inflation is under control and growth is good, the main priority has to be to reduce the cost of transferring services to make sure these are reaching the beneficiaries," he said. "The second major item is increased public investment and third is fiscal consolidation."
Before it's here, it's on the Bloomberg Terminal.
LEARN MORE