A Camouflage Clothing Line Wants to Be Lululemon for Hunters
Kuiu is betting hunters want high-end, high-functioning gear.
By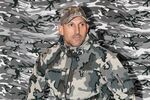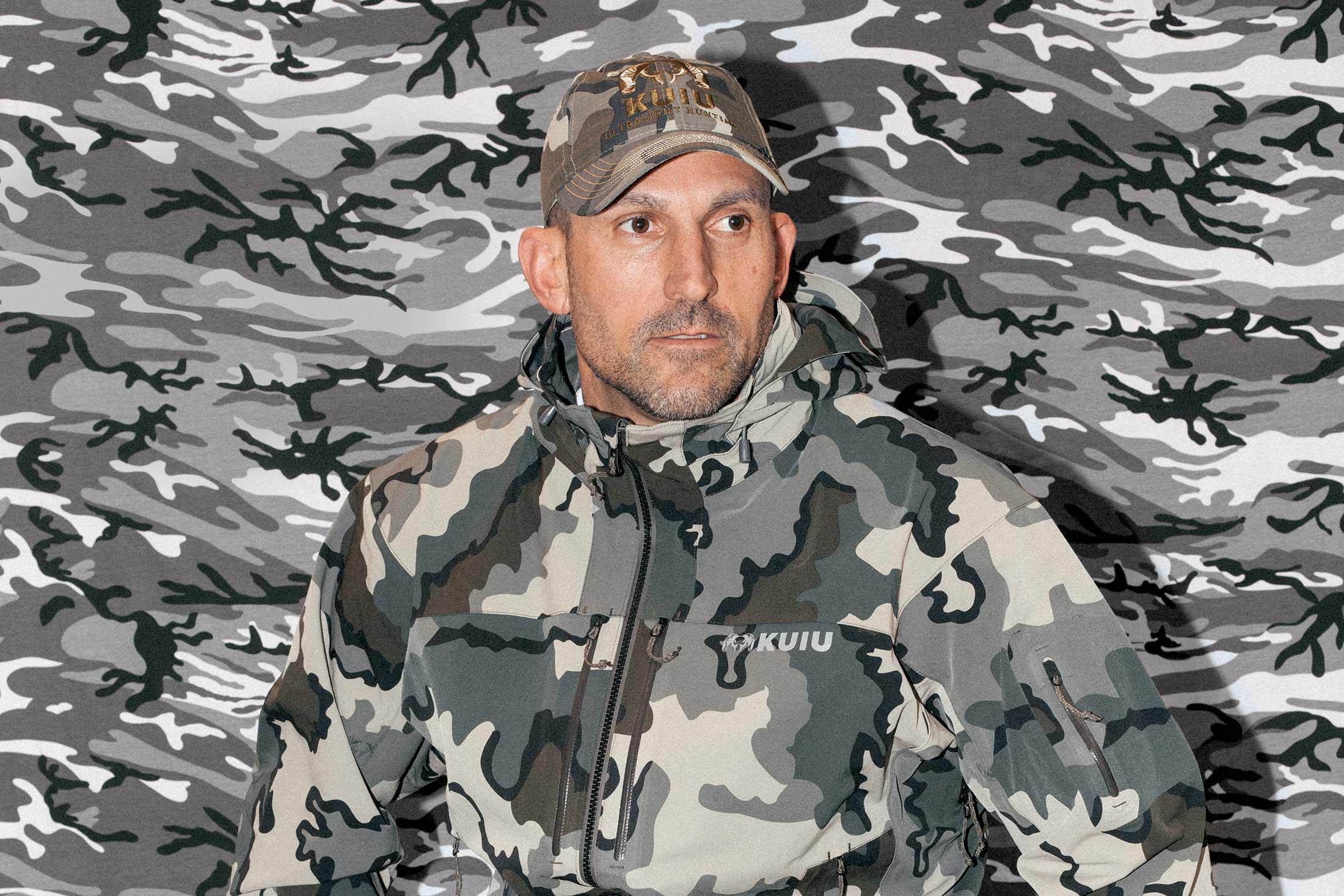 Killing a Canadian mountain sheep is a little like climbing Everest. It's expensive and arduous and typically involves terrible weather. Clothing is critical, but hunters can't wear the garish, down-stuffed suits that climbers in the Himalayas favor. Sheep, it turns out, have incredible eyesight: Sophisticated camouflage is essential. "I'd say 80 percent of the hunters I know wear Kuiu," says Bob House, who charges $40,000 for guided expeditions in the Yukon. "I absolutely love it when my client steps off the plane and is fully outfitted in that stuff." If paying tens of thousands of dollars and traveling to a remote part of Canada to kill sheep doesn't already signal how serious someone is, Kuiu does.
Unless you're an experienced sheep stalker, you've probably never heard of Kuiu, named after an Alaskan island and pronounced "koo-yoo." But the company is conferring on hunting gear the status that Patagonia did for outdoorwear and Lululemon Athletica did for yoga pants. Kuiu is making it lighter, more water-resistant, more breathable, and better looking—an upgrade to what's been previously available, which has been as oblivious to performance, fit, and aesthetics as a deer on the opening day of hunting season.
Depending on where you live and the number of Wunder Under pants you own, you may assume that hunting is a niche sport. You'd be wrong. Hunting is a huge and remarkably stable business opportunity: About 15 million people bought a license in the U.S. last year, a number that's remained virtually unchanged for the past decade, according to the U.S. Fish and Wildlife Service (it estimates that hunting gear and apparel take in about $23 billion annually). There are far more hunters in the U.S. than rock climbers or surfers, and almost as many as there are skiers and snowboarders, according to annual surveys by the Outdoor Foundation. Bowhunting, in particular, is booming; because it requires more tracking, young, fitness-focused people are picking it up. "We're finding that it's resonating with the farm-to-table movement," says Jon Edwards, president of Schnee's, a hunting retailer based in Bozeman, Mont.
All this has presented an opportunity for Kuiu's 44-year-old founder, Jason Hairston. He's an unlikely apparel magnate. But he was an unlikely football star, too. He played college ball at the University of California at Davis, a school better known for turning out almond farmers than linebackers. In 1995 he was invited as an undrafted free agent to the San Francisco 49ers training camp, where he spent his days as a tackling dummy. Then-defensive coordinator Pete Carroll took a shine to his speed, attitude, and work ethic, though, and he made the cut. After one season and a particularly brutal hit, an old neck injury caught up with Hairston, causing him to lose feeling in his left arm. The injury and the surgery that followed ended his football career, and he found himself selling commercial real estate in Boise, Idaho. "I was completely lost as to what to do next," he says.
Sales came naturally. Hairston was successful but unhappy, living for weekend bowhunting trips. He would hike deep into the mountains and, channeling his inner linebacker, hump out with whatever he'd killed. It was on one of these trips, in fall 2004, that Hairston and Jonathan Hart, a college friend, got the idea for the company that would be a steppingstone to Kuiu. They were clad for warmth in lightweight mountaineering apparel—a patchwork of North Face, Patagonia, and other brands—yet, to stay hidden, they swaddled themselves in cheap camouflage that was ill-fitting and heavy. "The mountaineering world was light years ahead of the hunting industry," Edwards says.
At the time, high-end brands that skiers favored didn't bother catering to the hunting market, and existing hunting labels had a cartoonish view of their customer: overweight and underpaid. Hairston and Hart's new company, named Sitka for the Alaskan city, made the first camo apparel that featured what would have been familiar to any shredder: wicking fabrics, weatherproof zippers, armpit vents, and welded seams. It was cut for athletic builds, not beer bellies, and while it would cost more than other camo, Hairston was convinced there was a crowd of affluent, fit sportsmen who'd pay a premium for high-functioning gear. The co-founders did no market research, but any McKinsey consultant would have given them a green light.
Sitka struggled at first. Hairston couldn't find reliable suppliers and factories. He started on the trade show circuit with a hodgepodge of fabric samples and shoddily sewn garments. He had to stack the first batch of merchandise in his yard (he'd moved to Dixon, Calif.) until he could make space in his garage. But the demand was there: Schnee's bought $10,000 worth of coats, pants, and thermals and sold out in two months. By 2007, Sitka's second year in operation, almost every major outdoor retailer was stocking the brand, and it did about $2 million in sales. Hairston and Hart were struggling to stay ahead of demand in late 2008 when W.L. Gore, makers of Gore-Tex, approached them about using the fabric. They sold Gore a stake in Sitka—and then, worried the deepening recession would crush business, sold the company outright. "I spent my last two weeks at Sitka writing the business plan for Kuiu," Hairston says. (Hart stayed on to steer the brand.)
Unlike Sitka, Kuiu sells directly to consumers, almost exclusively online. This allows the company to offer even better materials at a similar price point; a $300 Kuiu jacket would cost about $450 elsewhere. Kuiu features merino wool from New Zealand, Pittards leather from England, and covetable waterproof fabrics from Toray, a Tokyo-based chemical conglomerate introduced to Hairston by a former Patagonia designer. (To stand out even more, Kuiu uses proprietary camouflage.) Hairston did public relations, too, blogging about the suppliers behind his materials and people such as a retired Lockheed Martin engineer helping Hairston piece together a carbon-fiber backpack system.
"I realized if our products were going to sell, we had to educate our customers," Hairston says. He also detailed his field tests with posts that typically ended with pictures of a gutted animal and a huge set of horns. It was a bloody spectacle—and hunters ate it up. In its first day of sales, Kuiu moved $500,000 of merch. "There's such a stigma around hunting that so many companies are afraid of," Hairston says. "That's worked great for us." This year, Kuiu expects sales of about $50 million.
Kuiu's success hasn't gone unnoticed—major retailers have the company in their sights. Under Armour now sells hunting apparel, and reviewers are praising Cabela's in-house gear. At Schnee's, Sitka is stocked alongside Duckworth, a line of wool gear the retailer developed with scientists at Montana State University. (Hart says Sitka has grown 35 percent to 40 percent every year since Gore bought it, but he declines to share revenue figures. The brand got a boost in 2013 when Vladimir Putin was spotted wearing it.) Kuiu, for its part, is trying to expand its customer base, homing in on new turf. Next year it will release a line of shorts and shirts for trail running, and its $190 Guide jacket can now be had in "major brown" or "phantom gray," colors that seem particularly suited for snowboarders. It's working on a uniform for the U.S. Navy Seals, some of whom are already regulars, and the proprietary camouflage is becoming a business of its own: Kuiu is collecting licensing fees from companies plastering the designs on everything from binoculars to hunting bows. Those who hunt with arrows have to get close to their prey and so are particular about their camo. Which is exactly what Hairston wants.
Before it's here, it's on the Bloomberg Terminal.
LEARN MORE