Key U.S. Recession Predictor Is Missing From Nation's Highways
by
Truck cargo, a barometer of recent recessions, keeps rising

Industrial freight falls while consumer goods buoy shipments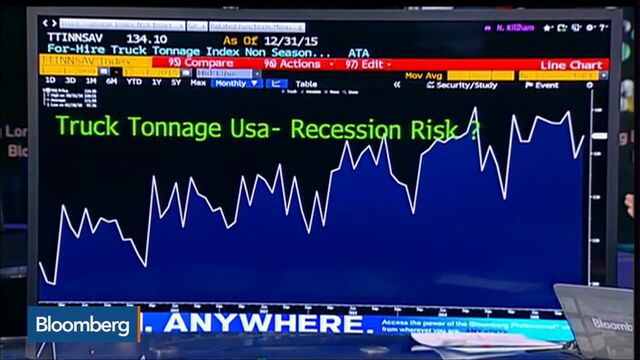 As a serial entrepreneur based in Greenwich, Connecticut, Bradley Jacobs hangs out with the big-money crowd dominated by hedge fund and private-equity types. The tenor of their conversations, he's observed, has suddenly grown pessimistic with many now fretting the economy's sinking into recession. As the owner of a trucking business (his latest venture), Jacobs also hears directly from a very different set: retailers across America. The buzz from them is decidedly more upbeat, what he calls "closet positive."
In the "sense that it's not fashionable right now to be positive," says Jacobs, who as chief executive officer of XPO Logistics Inc. controls 11,000 trucks in North America and brokers freight for companies.

History suggests that it's Jacobs's optimistic trucking-industry buddies, not the smart-money guys, who have it right. For truck cargo data has proven to be a reliable predictor of future economic activity, with a steady string of monthly freight declines preceding each of the past five U.S. recessions. There's no real sign of that kind of downturn now. Since early 2013, the tonnage hauled by trucks hasn't fallen even one month, when compared with the year-earlier period, according to the American Trucking Associations.
Growth Forecast
So while hand-wringing in financial circles mounts over global economic weakness, sluggish spending by U.S. consumers, an industrial downturn and selloffs in the stock and junk-bond markets, analysts who monitor freight movements closely aren't nearly as concerned. "There's nothing in the transportation data that makes a strong case that we're headed for recession," said Noel Perry with FTR Intelligence, a firm that provides transportation data and consulting. Perry predicts truck freight will rise as much as 2.8 percent in 2016.
While that forecast doesn't point to a recession, shipping is hardly looking robust. Growth of truck freight slowed through November before ticking up slightly in December.
Railroad cargo, dragged down by a plunge in commodities, is particularly weak, dropping the most last year since the 2008-2009 recession. The Cass freight shipments index, which combines truck and railroad cargo, has posted year-on-year declines since March while North American port activity has dropped since April. Transportation stocks have taken a pounding. All of this has spurred some equity analysts, including Matt Troy of Nomura Securities International, to predict the industrial weakness will leach through to consumers and possibly trigger a recession this year.
Supply Chain
There have been periods since the 1980s when truck cargo has dropped without a recession that follows, but there hasn't been a recession without a decline in truck freight beforehand. Slumps tend to show up in transportation data early because products that are put on a store shelf and components that are assembled must first be carried in a ship, truck or train.
Trucking executives, for instance, said they spotted the U.S. industrial downturn early last year before the numbers turned negative. Overall, the U.S. economy kept grinding along, posting an expansion of 2.4 percent last year. While economists are predicting a similar growth rate for this year, they've ratcheted up the probability of recession to almost 20 percent from a 10 percent calculation back in September.
Jerry Moyes, the CEO of Swift Transportation Co., doesn't see it. Three of the top customers at Swift, which owns a fleet of more than 15,000 trucks, are planning for their long-haul truck traffic to rise about 5 percent this year, Moyes said on a conference call last month. Jacobs, said that as XPO's CEO, he has visited with lots of customers -- "in the hundreds" in the past few months alone. With the exception of those in industrial manufacturing, mining and construction, where "they're feeling some pain," most executives are anticipating their businesses will, at the worst, post no growth for the year, he said. A recession? "I just don't feel it coming right now," he said.
Before it's here, it's on the Bloomberg Terminal.
LEARN MORE