Japan Investors in No Mood for Bargains as Banks Languish
by , , and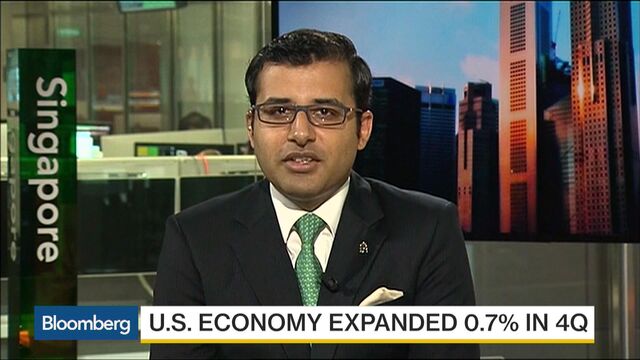 Japan's cheapest stocks are proving anything but bargains.
Unlike in the U.S., where high-valuation shares are being punished, in Tokyo it's companies trading at less than the value of their net assets that are falling the fastest. Investors are dumping banks, insurers, shippers and steel producers as a global selloff deepens, while the nation's most expensive equities are relative bright spots.

"Yes, we're at a cheap level, but if you think about the risks, investor appetite just isn't there," said Yoshihiro Okumura, a general manager at Chiba-Gin Asset Management Co. in Tokyo. "Globally we're seeing higher volatility, and that needs to calm down before we start thinking about what to buy. Right now we're not in a Japan-specific environment."
The Topix index fell to the lowest point since October 2014 on Wednesday as anxiety over the global economy intensified. With the yen surging and the yield on 10-year government bonds below zero for the first time, equity investors are sticking with a strategy that worked in 2015, favoring defensive shares.
Food companies, with a price-to-book ratio of 2.1, have the best showing among the Topix's 33 groups with a decline of 5.7 percent this year. Pharmaceutical firms, with a ratio of 2.0, are down 12 percent.
Bank shares have taken the biggest hit, falling 35 percent to the lowest since the beginning of 2013. Insurers and shipping companies dropped at least 29 percent, while iron and steel shares lost 23 percent. The four groups are among the lowest valuations in the Topix, trading at a price-to-book ratio of less than 0.7. In 2015, shippers and steelmakers led losses on the Topix as the index rose 9.9 percent.
Speeding Up
"That pattern is only speeding up," said Takuya Takahashi, a Tokyo-based senior strategist at Daiwa Securities Group Inc. "People are buying more of the stocks they already liked, and for the same reason they're shunning the ones they were already avoiding, and that's sending them plunging even more."
The trend is different in the U.S., where the market is seeing a sharp reversal of once-mighty leadership stocks such as Facebook Inc. and Amazon.com Inc. The 100 highest-valued companies in the Russell 1000 dropped twice as fast as stocks in the least-expensive decile on Friday and Monday, while momentum stocks, defined as the ones showing the biggest gains in the last six to 12 months, have stopped rallying after returning 32 percent as a group in 2015.
Japanese stocks are feeling the impact of a higher yen as global investors seek havens amid a rout that's wiped $7.7 trillion off the value of equities. The currency strengthened past 115 per dollar Tuesday after its biggest weekly rally since 2009. That's weighing on shippers and exporters, as investors brace for one of the worst corporate earnings seasons of Prime Minister Shinzo Abe's administration.

"Sensitivity toward currency moves seems to be increasing," said Chiba-Gin's Okumura. He says each move of one yen against the dollar may equal a 500-point move for the Nikkei 225 Stock Average. "With the yen at around 115 per dollar, it won't be surprising if the Nikkei fell to 15,500 yen. All sorts of risk factors are being priced in there."
The Nikkei 225 dropped 2.3 percent to 15,713.39 at the close in Tokyo, while the Topix tumbled 3 percent to 1,264.96.
Banks and brokerage firms accelerated losses since the Bank of Japan surprised the world by cutting interest rates to below zero on Jan. 29. Japan's 10-year government bond yield dropped below zero for the first time, underscoring the challenge for banks to make money from lending in the world's third-largest economy.
Mitsubishi UFJ Financial Group Inc. slumped 7.1 percent on Wednesday after an 8.7 percent tumble the previous day, closing at the lowest level in three years. Japan's largest lender is the cheapest it's ever been, trading at 0.43 times book value.
"Brokerages, real estate shares -- stocks that are traditionally sold when there's concern over the market itself are being sold," said Nobuyuki Fujimoto, a senior market analyst at SBI Securities Co. "In a negative rate world, once we calm down a little investors may start focusing on high dividend yield shares. That said, when the market's this out of control it's difficult to pursue investments like that."
Before it's here, it's on the Bloomberg Terminal.
LEARN MORE