Gender Studies
Ivanka Trump Tries to Convince New Hampshire Her Father Loves Women
Donald Trump's essential surrogate campaigns on Primary Day.
By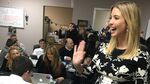 On the climactic day of the New Hampshire primary contest, the Family Trump was out in full force.
Donald Trump's two adult sons, Donald Jr. and Eric, zoomed from a hearty American diner in Portsmouth to a "business stop" at Wilcox Industries, and then on to various meet-and-greets. Don Jr., the campaign says, spoke "about the importance of 2nd Amendment Rights" at the Londonderry Fish and Game Club. 
But these many activities notwithstanding, Trump's elder daughter, Ivanka, has been the most visible family member on the trail.
It was a beaming Ivanka, after all, who introduced her father at his initial campaign announcement. Last week in Iowa, she stood in a sparkly maternity dress and helped get out the vote in a family-branded civic education video, seated before cushy and plump pillows. She spent Tuesday shaking hands at Mary Ann's Diner in Derry, then at a school and senior center in Salem. 
On Tuesday afternoon, she stopped at her father's campaign headquarters in Manchester. Thirty-some volunteers, seated before an image of Trump shaking Ronald Reagan's hand, were making calls to remind voters it was Primary Day. 
"Oh my gosh," Ivanka said, entering the room in a black dress with white floral accents. And then, with her father's gift for braggadocios hyperbole, "You can't fit one more person in here, this is amazing!"
But it was with a refinement, a finesse her father lacks—a gleaming air of diplomacy, you might call it—that Ivanka shook hands and asked voters where they were from.

Providence?
"Prov-i-dence!" she repeated. "It's all so amazing that you guys are taking the time."
Australia? "Oh wow!," she said. "That's why you're so fit. I got it."
A volunteer from Amish Country, Pennsylvania, said that other foreigners—five young people from the Netherlands—had been making calls that morning.
Ivanka asked two teenage girls, blushing in the corner, how many years it would be until they could vote, then thanked them for coming out today.
"We appreciate it," she told the gathered crowd. "I love it. I've been going around and thanking all the other volunteers at the other polling locations."
Ivanka is more than eight months pregnant. One of the volunteers, a Newport, Rhode Island, resident named Martha Hunnewell, asked if she knew the baby's gender.
No, Ivanka replied. "I have one of each," she said, "and will be happy with either." A smile never left her face.

Ivanka may be the second-most-gifted politician in the Trump family, and the one necessary surrogate, offering emphatic, if vague, words of encouragement about him, and assurances that he is a huge (pronounced in her father's unmistakable manner) supporter of women.
But Trump has also deployed a small brigade of supportive women in his family. Melania Trump, Donald Trump's wife, recently had her byline on the cover of Us Weekly. Daughter Tiffany Trump was there when Trump announced his candidacy. And the wives of Donald, Jr. and Eric are making the rounds with them in Iowa and New Hampshire. But no one has vaulted forward in the Republican front-runner's entourage like Ivanka, she of the upscale jewelry line and neutered, cheery feminism of her #WomenWhoWork campaign.
It may be mere coincidence that Ivanka and Chelsea Clinton are close friends, as their parents campaign against each other for their battling parties' nominations, in Iowa and now in New Hampshire. It may, too, be mere coincidence that both women are in their mid-thirties, mothers already, and pregnant—and that their parents make their pregnancies part of their stump speech pitch.
But in an election cycle when the votes of young women—especially millennials—are much in discussion and in demand, it seems no surprise that Ivanka and Chelsea are busy making the case. (Not to be outdone, the model and actress Emily Ratajkowski has been out getting out the vote for Bernie Sanders, with a dig at Gloria Steinem's controversial comments about young women.)
Hunnewell, wearing a prim red jacket with a Trump pin, smiled at the thought of Ivanka's baby, whatever the gender. "You can call this baby New Hampshire," she joked. Her friend Diana Slaughter, who had flown in from Birmingham, Alabama, to make calls for Trump, said—knowingly—that modern women like Ivanka took care to take precautions. "They've got every hospital nearby on alert."

After Ivanka left the premises—off to boost the next locale—Hunnewell confided that she was staying at the same hotel in Concord as the Bush family, and that she had lunch at the table right beside Barbara Bush last week at a private club in Houston. "Governor Bush is my friend," she said, "but I'm supporting Mr. Trump! Why do you think I'm here?"
Hunnewell said that she knows the Trumps, too, including Ivanka. "I've known her for years," she told me. "I spent a lot of time in Palm Beach. She's gone out with my friends' children. I went to her father's wedding."
"I wish I'd had time to talk to her," she lamented. "But hopefully someone will have time to tell her, he's got to calm down."