Greece Bonds Punished as EU Politics Is Back on Investor Radars
Eligibility for ECB QE later in 2016 may provide support.
by , , and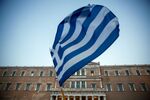 Greek bonds extended losses ahead of Thursday's Eurogroup meeting, where euro-area finance ministers are expected to seek more clarity on the country's pension reforms and budget measures.
The first review of the third Greek bailout program has been stalling since October 2015 over disagreements on pension and tax reforms, but analysts say the outlook may be more upbeat than the headlines and market moves suggest. Bank of America Corp. and Greylock Capital Management say the country's bonds offer better value than many of their peers.
With the generic Greek 10-year bond yield jumping to 10.52 percent from 9.57 percent at the end of last week and 8.29 percent as of Dec. 31, here's what analysts are expecting.
Tanguy Le Saout at Pioneer Investments 
The general political climate in European countries continues to deteriorate. The Eurogroup is likely to increase pressure on Greece to agree to a more radical pension-reform plan than it is currently proposing to do.
News flow over Greek reforms is expected to increase over the next couple of weeks. Current Greek proposal is heavily geared toward revenue increases rather than cutting benefits, and even this plan is facing significant political opposition within Greece.
Nicola Mai at Pimco
Spread widening on peripheral European bonds offers an opportunity to buy and to add to some existing positions. It's hard to predict how long the volatility in bond markets will last but it seems that the nervousness is excessive compared with the fundamentals.
Yesterday's move in peripheral sovereign bonds has more to do with the general risk-off environment rather than any specific change in fundamentals, as the European Central Bank's asset-purchase program and the euro-zone recovery are still in place, and lower oil prices should be favorable for the economy.
Pimco still favors Spain and Italy bonds among peripheral bonds.
Ricardo Garcia at UBS Wealth Management 
This is a seller's market, which means investors are looking for the weakest link every day and Greek assets are an obvious target. The picture in Greece isn't as bad as the headlines on protests and negotiations between the government and creditors suggest.
While discussions on migration add an extra dimension to the complex negotiations, UBS Wealth Management is nonetheless optimistic as the government is committed to pension reform. The European Commission's feedback said plans are a legitimate basis for negotiations, showing the parties are much closer than they were a year ago.
The risk of fresh elections in Greece is significant given the very slim government majority, but the more radical elements of Prime Minister Alexis Tsipras's party have been removed from government.
In any case, Tsipras is unlikely to present the pension plan to parliament until he's sure it will be passed and the government won't fall. Negotiations may take longer than some policy makers are expecting.
Athanasios Vamvakidis at Bank of America Corp.
While there are a number of reasons to be pessimistic on Greece in the short term, recommend buying Greek bonds on price dips as the country is on the path toward inclusion in the ECB's debt-buying program sometime this year.
Political instability in Greece is clearly a risk in the short term as the government has a very slim majority in parliament and it could collapse if they try to get approval for pension reforms and new tax regime for farmers.
There is a fundamental difference compared to the past because so long as a government, this one or another one, concludes the review, then it's likely that by the end of this year Greek bonds will be included in the ECB's quantitative easing, or QE, which is very bullish for Greece.
The best case for Greece this year is QE inclusion this summer and the worst-case scenario is QE by the end of the year. No matter how you see it the endgame is QE.
Diego Ferro at Greylock Capital Management
Greece is more attractive than other peripheral bonds which offer yields close to zero.
Greylock sees value in short end of Greek curve and is keeping its holdings in Greek sovereigns and, among others, favors the bonds maturing 2017.
The selloff is exaggerated and probably driven by technical factors as Greek bonds are in large part held by hedge funds, which makes any moves more pronounced.
David Schnautz at Commerzbank 
Both sides, the bailing-out parties and Greece, are at risk of losing face. The bank expects tough negotiations to continue, as both sides in any scenario must show that they tried their best.
"As we learned in the past, the last meters are always the most difficult ones as only very contentious topics are left on the table," said Schnautz.
Marc Chandler at BBH 
Real money continues to avoid Greece and the review doesn't mean more investors will be investing in the country.
The immigration issue and potential for European Union border policy to limit flows into Macedonia are overshadowing the purely economic issues.
Gianluca Ziglio at Sunrise Brokers LLP
There is no safe harbor in the periphery and people are becoming increasingly skeptical about what the ECB can deliver in March and really achieve. Greece remains a major scare. 
These market moves may only be the beginning of a new bout of instability, particularly with regard to relationships among member states and the situation in Greece.
Before it's here, it's on the Bloomberg Terminal.
LEARN MORE