Five Things Everyone Will Be Talking About Today
Get your market day started here.
by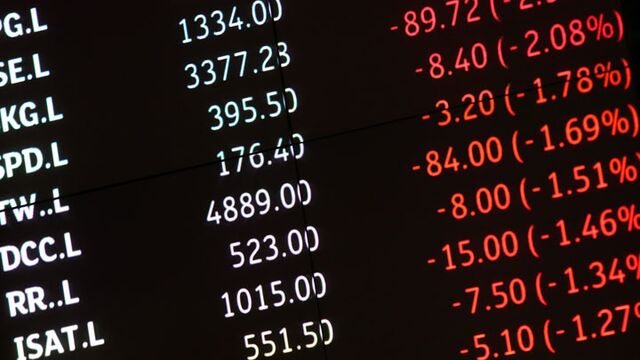 Japanese market rout, Deutsche Bank tries to reassure investors, and global bond market nears panic level. Here are some of the things people in markets are talking about today.
Japan rout
Stocks plunged in Tokyo overnight, with the Topix index closing 5.5 percent lower, its largest decline since August. The Japanese 10-year bond yield dropped below zero percent for the first time as the bonds continued their rise following the Bank of Japan's surprise rate cut on Jan. 29. The yen surged over 1 percent to 114.30 before paring those gains, trading at 115.25 at 11:15 a.m. London time.
Deutsche Bank
Markets have been nervously watching Deutsche Bank AG bonds, with CreditSights Inc. saying the bank may struggle to pay coupons on some of its riskiest securities next year, if financial results miss expectations. Shares in the bank, which dropped over 9 percent yesterday, were trading unchanged at 11:10 a.m. London time, having rallied earlier in the session after the bank issued a statement saying it has the cash to meet coupon payments. Goldman Sachs Group Inc. does not see a repeat of the financial crisis, as they say banks across the euro area still have ample access to liquidity.
Bond market at panic level
Global bond markets are at panic level prices, with Treasury yields at a one-year low, German short-dated securities yields falling to record levels, and the Japanese 10-year yield turning negative. There are now $7 trillion of government bonds offering yields below zero across the world. For central banks, the continuing low yields just point to the problems they are having with diminishing returns from their easy money policies.
Commodity bears
Goldman Sachs Group Inc. is the latest to put forward their case for oil to fall below $20 a barrel, warning storage capacity is close to becoming exhausted. West Texas Intermediate crude rose 58 cents to $30.30 a barrel at 11:30 a.m. London time. Goldman is also unconvinced by gold's recent rally, putting a $1,000 dollar an ounce price target on the commodity that briefly moved above $1,200 an ounce yesterday.
New Hampshire
The first primary of the U.S. presidential election is underway today in New Hampshire. With nearly half the voters not registered in either political party, independents will play a big part in the result, something which is expected to favor Bernie Sanders. On the Republican side, Donald Trump is the front-runner.
What we've been reading
This is what's caught our eye over the weekend.
Want to receive this post, and more, into your inbox every morning? Sign up here
Before it's here, it's on the Bloomberg Terminal.
LEARN MORE