Deutsche Bank Jumps as Lender Said to Consider Bond Buyback
By and
Cryan said in memo to staff on Tuesday bank is `rock solid'

Shares jump as much as 17%, biggest intraday gain since 2009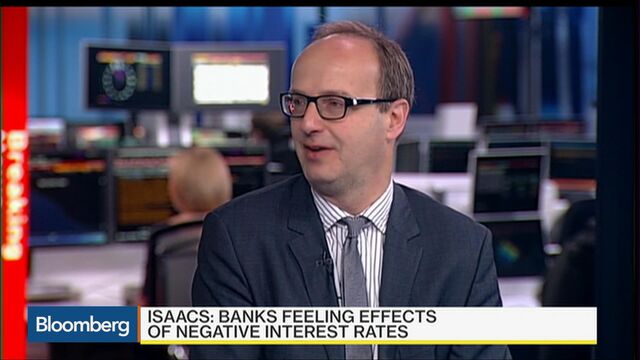 Deutsche Bank AG shares jumped the most in almost seven years and credit risk fell as Germany's biggest bank considers a bond buyback to help ease investor concerns about its funds, according to a person with knowledge of the matter.
While the bank has ample cash to make the purchases, no decision has been made and a buyback may yet be deemed unattractive, the person said, asking not to be identified because the talks are private. Such a move would focus on senior bonds and probably wouldn't include the firm's riskiest debt, known as CoCos, the Financial Times reported Tuesday. Renee Calabro, a spokeswoman for the Frankfurt-based bank, declined to comment on its plans.
QuickTake Contingent Convertibles
Deutsche Bank Co-Chief Executive Officer John Cryan is seeking to reassure investors and staff that the bank is "rock solid" after the shares erased almost 2 billion euros ($2.3 billion) of the company's market value on Monday. While the lender said on the same day that it has more-than-sufficient means to pay coupons on its riskiest debt both this year and next, the statement did little to reverse a selloff in credit markets.
"It's a smart act," said John Mack, the former chief executive officer of Morgan Stanley, in an interview Wednesday on Bloomberg Television. "You know what's going on within your bank, if these bonds are traded at distressed levels and you have cash, why wouldn't you take them back out."
The shares soared as much as 17 percent, the biggest intraday gain since March 2009, and were trading at 15.1 euros at 2:27 p.m. in Frankfurt. The bank has lost about 33 percent of its value this year.

Deutsche Bank's 1.5 billion euros of 1.125 percent senior notes due in March 2025 rose 2 cents on the euro to 91.5 cents on Wednesday. Its 2 billion euros of 1.25 percent bonds due in September 2021 rose 1.5 cents to about 97.5 cents.
The lender has issued or guaranteed about 88 billion euros senior unsecured debt, according to data compiled by Bloomberg. The weighted average maturity of its 144 billion euros of debt is six years.
If Deutsche Bank buys its bonds above market prices, it's "effectively creating a floor" for senior notes "to discourage investors either selling or shorting risk," said Roberto Henriques, a credit analyst at JPMorgan Chase & Co. in London. "They're attempting to invert the negative pressures we've seen on the CDS; 'stopping the rot', so to speak."
Credit-Default Swaps
The cost of insuring Deutsche Bank's debt fell for the first time in nine days from the highest levels since 2011 on Tuesday, according to data compiled by Bloomberg using London's closing prices. Credit-default swaps on its senior debt dropped nine basis points to 234 basis points and contracts on its junior debt declined six basis points to 465 basis points.
"A senior bond tender would, in our view, have a material impact on CDS spreads, with the instrument heavily used as a hedge and a speculative tool against the bank," said Philippe Kellerhals, a senior portfolio manager at Cairn Capital Group in London. "The primary intention is to reduce investor concerns and show that their balance sheet is strong enough."
Broader measures of credit risk also fell on Wednesday, according to data compiled by Bloomberg. The Markit iTraxx Europe Senior Financial index linked to banks and insurers dropped 13 basis points to 121 basis points and the subordinated benchmark tumbled 35 basis points to 271 basis points.
Cryan, 55, told employees in a memo on Tuesday that the firm has ample "capacity and commitment to pay coupons to investors" who hold its CoCos, also known as additional Tier 1 capital. That came only hours after Chief Financial Officer Marcus Schenck released a statement, saying the bank's capital and risk position "remains strong."
Market 'Tantrum'
Deutsche Bank said it has room to pay about 1 billion euros in 2016 -- enough to cover about 350 million euros of coupons on its riskiest debt, known as additional Tier 1, due in April. The estimated payment capacity for 2017 is about 4.3 billion euros, boosted in part by proceeds from the announced sale of a stake in Huaxia Bank Co., the lender said. The 2017 estimate is before any effect from 2016 profit or losses.
Deutsche Bank would probably benefit most from focusing on its turnaround and reacting less to the market's swings, according to Chris Whalen, senior managing director at the Kroll Bond Rating Agency.
"The market's just throwing a tantrum," he said. "If I were the head of Deutsche Bank, frankly I would try not to react to all of this. They have to stay focused on what they're trying to achieve."
'Liquidity Question'
Since becoming co-CEO last year, Cryan has pledged to boost profitability and raise capital buffers by shrinking parts of the firm's debt-trading business and selling Deutsche Postbank AG, a German consumer lender. His efforts have been hampered by rising costs tied to past misconduct, with Deutsche Bank racking up more expenses for litigation and fines since the start of 2008 than any other financial firm on the Continent.
Deutsche Bank's common equity Tier 1 ratio, a measure of financial strength, fell to 11.1 percent at the end of 2015 from 11.5 percent at the end of September.
"We've stayed away from European banks ever since the financial crisis and until they really get to grips with the capital positions and balance sheets," Lucy MacDonald, chief investment officer global equities at Allianz Global Investors told Bloomberg Television on Wednesday. CoCos "are a useful tool but it's the liquidity of those instruments which is a question and whether those who bought them thought through that liquidity question."