Credit Risk Soars From Japan to Australia on Global Bank Anxiety
by
CDS costs reach new highs as concern in Europe sparks selloff

Holiday closures across much of Asia reduce market liquidity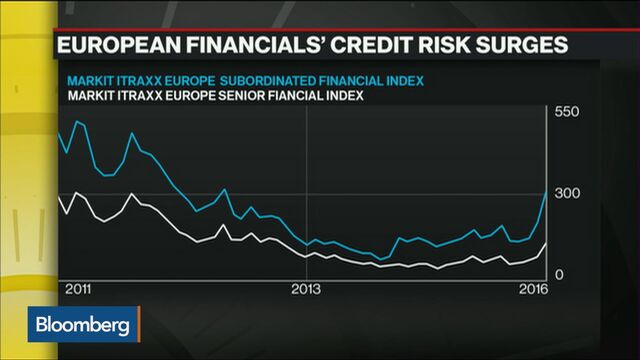 The cost of insuring corporate bonds in Japan and Australia surged amid mounting concern about the prospects for global banks and a selloff in riskier assets worldwide.
The iTraxx Japan index of credit-default swaps jumped 8 basis points to 103 basis points as of 12:48 p.m. in Tokyo, according to Citigroup Inc. pricing. The measure hasn't been that high since July 2013, based on CMA data. The Australian CDS gauge climbed 10 basis points to 169 as of 2:51 p.m. in Sydney, Australia & New Zealand Banking Group Ltd. prices showed. The index last closed higher in September 2012, CMA data show.
While markets across much of the Asia-Pacific are closed for Lunar New Year holidays, credit-default swap costs in the region's two biggest developed economies soared after concern about Deutsche Bank AG and other European lenders helped spark a credit rout that's rippled across the world. Evidence of mounting distress in global credit markets has also seen investors flock to the safety of government debt and away from equities.
"The European banks took it in the neck quite drastically, with Deutsche being the nucleus of all that," said Scott Rundell, chief credit strategist at Commonwealth Bank of Australia in Sydney. "They're certainly the center of the maelstrom and other banks have followed suit."
European Concern
The cost of protecting Deutsche Bank's debt against default has more than doubled this year, while its stock trades at about one-third of the company's liquidation value. The Frankfurt-based firm on Monday became the largest lender in at least four years to feel compelled to reassure investors and employees that it has enough cash to pay its debts.
The surge in Australian and Japanese bond risk follows the lead of Europe and the U.S. The Markit CDX North America Investment Grade Index jumped 5.9 basis points on Monday to about 120.6 basis points, while the Markit iTraxx Europe rose 11.3 basis points to a 2 1/2-year high of 121.8.
"The widening in credit spreads and the focus now on credit-default swaps suggests that the pain is not going away anytime soon," Chris Weston, chief markets strategist in Melbourne at IG Ltd., said in an e-mail to clients. "There is huge demand for portfolio protection in all asset classes and it just doesn't feel like we are going to see a major turn anytime soon."
Absent Traders
With major Asian financial hubs such as Hong Kong and Singapore on holidays, the moves in markets are also potentially being exacerbated by a lack of liquidity.
"The widening in CDS in the past few days doesn't reflect fundamentals," said Hiroaki Fujioka, a senior credit analyst at Daiwa Securities Group Inc. in Tokyo. "CDS are widening because the number of market participants is decreasing. There aren't enough people who will sell protection to those who want to buy it."
Before it's here, it's on the Bloomberg Terminal.
LEARN MORE