Chesapeake Credit Rating Cut by S&P on `Unsustainable' Debt
by and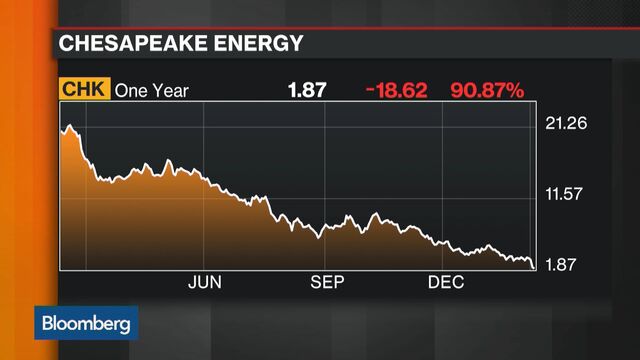 Standard & Poor's cut Chesapeake Energy Corp.'s credit rating deeper into distressed levels, saying its debt is "unsustainable."
Even after a recent debt exchange that helped reduce Chesapeake's borrowings by $1.5 billion, the shale driller will need to take other steps in the next 12 months, S&P said. That may include another exchange offer or other refinancing. Such a transaction would be viewed as "distressed rather than opportunistic" and be considered a "selective default," the rating firm said as it cut Chesapeake's rating one level to CCC.
The second-largest U.S. gas producer's debt could exceed a measure of earnings by 12 times as natural gas and crude oil prices hover at multi-year lows, S&P wrote.
"Liquidity is likely to be challenged under these low prices, both from diminished cash flows and potential reductions in the company's borrowing base," according to the report.
Chesapeake has been selling assets to shore up liquidity over the past years. It sold $10.8 billion in assets in 2012, followed by another $5.4 billion of sales of gas and oil shale fields in 2014.
But these kinds of sales may be more difficult in the future, S&P wrote.
"Low crude oil and natural gas prices have led to weaker access to the capital markets in the energy sector, including the midstream sector, which has been a dependable source of buyers," according to the S&P report. "This could make it difficult for potential buyers to raise capital, and result in less-than-favorable asset valuations."
Losing Ground
Chesapeake's shares and bonds continued to decline Tuesday. Its 3.25 percent senior unsecured bonds maturing in March extended Monday's drop of 11 cents on the dollar, losing another 1.5 cents to trade at 82.5 cents at 4:16 p.m. in New York on Tuesday, according to Trace, the bond-price reporting system of the Financial Industry Regulatory Authority.
The company's $2.4 billion of 8 percent second-lien notes maturing 2022 slid about 4.9 cents to 35.1 cents on the dollar at 4:51 p.m. in New York.
Chesapeake shares fell about 4 percent to close at $1.95, following Monday's 33 percent plunge that erased $678 million in market value.
Chesapeake enlisted Evercore Partners Inc. late last year to help restructure its debt. Kirkland & Ellis LLP has been advising the borrower since 2010.
Before it's here, it's on the Bloomberg Terminal.
LEARN MORE