What Happens When Boris Johnson Enters the 'Brexit' Debate
by and
London mayor weighs leadership chances against `Brexit' vote

Osborne and Johnson lead field of favorites to replace Cameron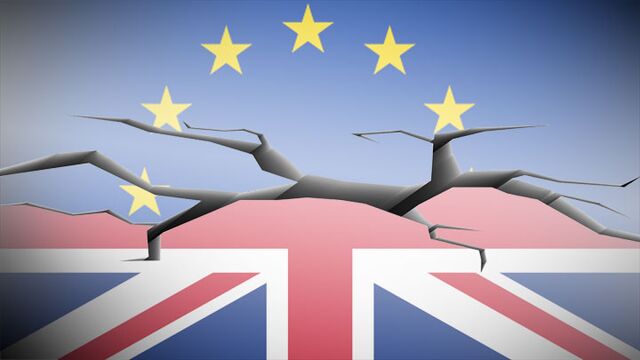 The presence of reporters outside London Mayor Boris Johnson's front door used to be associated with his private life spilling into the newspapers. Now, the shouted questions are probing his views of the European Union.
QuickTake Will Britain Leave the EU?
As David Cameron prepares to present his renegotiated terms for Britain's EU membership and announce a referendum, Johnson is on the fence over whether he'll join the campaign to remain in the bloc. Johnson's decision, for or against the EU, may affect the impending race to succeed Cameron, a contest that pits the charismatic mayor against George Osborne, the politically sure-footed chancellor of the exchequer.
Whichever way he jumps, Johnson knows he will upset people. If he campaigns against Cameron and wins, he might bring down the government. If he does so and loses, he will merely have made enemies of Cameron and Osborne, both of whom want the U.K. to stay in the EU. And if Johnson campaigns with them, he will disappoint Euro-skeptics in the Conservative Party whose support he needs to fulfill his dream of becoming prime minister.
"Outside of those in Downing Street, Boris Johnson is the one politician who could really bring voters with him if he endorsed 'Leave'," said Tom Mludzinski, director of political polling at ComRes Ltd. "He is now coming to a fork in a road, knowing that whichever way he turns he is likely to disappoint some supporters. That's something he has by and large managed not to do until now."
'Great Future'
Johnson, who made his name before entering parliament as a journalist harrying and lampooning the European Commission in Brussels, has so far managed to straddle both sides of the argument. While he has made the case for Britain having nothing to fear outside the bloc, he has also supported Cameron's renegotiation.
"I want to be part of a reformed EU, that's my preference," Johnson said in an interview with the BBC on Jan. 7. "But if we can't get the reform we need, then Britain has a great, great future elsewhere and outside, in a different relationship."
He used his column in the Daily Telegraph newspaper on Monday to criticize some of the details in the draft compromise put forward by EU President Donald Tusk for consideration by leaders at their Feb. 18-19 summit. He made sure to attack the protections offered for EU states that don't use the euro currency, the area in which Osborne led negotiations.
Closest Ally
Hanging over the referendum penciled in for June is the question of who will be the next Conservative leader -- and prime minister. Cameron has said he won't fight another election, and Osborne, his closest political ally, is favorite to succeed him.
As with Europe, however, Johnson has the capacity to upset his colleagues' carefully laid plans. He is on the very short list of politicians whom the public know by their first names. He also won the mayoral election in Labour-leaning London for the Tories twice. But to take the Tory party leadership, he would have to first make it onto the shortlist of two names that Conservative members of parliament will present to the wider membership for the final vote. That means winning the support of his fellow lawmakers.
As mayor, Johnson was out of Parliament from 2008 until 2015, a period in which the party's lawmakers changed dramatically: Of the 330 Conservative members of parliament, 208 were elected after 2006. Many are doubtful about the value of the EU and unconvinced by Cameron's renegotiation. Wednesday saw a prominent member of the 2010 intake, Sarah Wollaston, announce that she was backing exit. "I have always been a Europhile," she wrote in The Times. "But I can no longer ignore the grinding reality of the EU." She described Cameron's renegotiation as a "threadbare offering" and said it suggested the EU was incapable of "any meaningful reform."
Johnson's rival Osborne has used his powers of patronage to win supporters among these members of Parliament. As well as giving a hearing to those who want money spent on projects in their constituencies, he is an enthusiastic entertainer.
Dining Parties
Four Conservatives who have attended Osborne's soirees described the experience, asking not to be named since the evenings were private. They were invited in groups of about 12 to his official residence at 11 Downing Street, where they walked up a staircase past cartoons of his predecessors, to a first floor room overlooking the garden he shares with his neighbor at Number 10.
There they were served drinks -- one guest complained the Chardonnay was warm -- before moving downstairs to the Chancellor's dining room. Osborne set out a few areas he wanted to discuss, and as the waiters served food, made sure everyone around the table was included in the conversation.
Johnson's getting-to-know-you program is rather more informal. As well as meeting colleagues for beers on the riverside terrace of the House of Commons, he invites them to share curries in his office, where unstructured discussion accompanies takeaway food dispensed from tinfoil cartons.
Mixing their beer references, Johnson's supporters say he has the retail appeal of Carlsberg and, like Heineken, reaches parts of the country that others can't. One described him being surrounded by fans at the Conservatives' "Black And White" fundraising ball on Monday evening.
Run Into Trouble
Even though some of this warm regard from the party faithful would disappear if Johnson comes down on Cameron's side in the EU referendum and argues against exit, he won't give up on his desire to be prime minister.
"If he really thought 'no' was going to win and carry the country with it, he would go for that," Andrew Gimson, author of 'The Rise of Boris Johnson,' said in a telephone interview. "But I'd be amazed if he votes to leave."
History is on Johnson's side, Gimson added. Osborne is 11/8 favorite with bookmaker Paddy Power to be the next Tory leader, with Johnson second favorite at 3/1. The front runner has not won a Conservative leadership contest since Anthony Eden in 1955.
Johnson "will go on playing the game and wait for his opportunity," said Gimson. "Osborne will very likely run into trouble with the economy and Boris will position himself as the man who can do 'one nation' politics with much greater brio and brilliance."
Before it's here, it's on the Bloomberg Terminal.
LEARN MORE