Bristow, Pilot for the Oil Sector, Invests in U.K. Drone Startup
by
Sky-Futures receives $4.2 million from U.S. helicopter experts

Money to be used to improve software and other services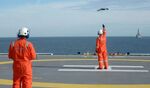 Bristow Group Inc., a Houston-based company that provides helicopter transport to the energy sector, said it's investing $4.2 million in Sky-Futures, a U.K. startup that uses drones to conduct engineering surveys of off-shore oil and gas rigs.
The investment is an indicator of the growing importance of unmanned vehicles in industrial settings -- and the way in which such tools and the software they carry are transforming surveying and inspection jobs in settings ranging from residential real estate to deep sea oil platforms.
Inspecting oil and gas rigs to spot potential maintenance problems has been dangerous, time-consuming work. Traditionally, specialist teams would spend up to eight weeks off-shore, dangling from ropes beneath a rig while carefully taking photographs that would later be analyzed to gauge corrosion and spot structural damage.
Minimizing Risk
Sky-Futures, which was founded in 2009, uses camera- and sensor-equipped drones to cut the time such a survey takes to five days while minimizing risk to life and limb. It currently works with 36 large oil and gas companies around the world,  co-founder and Chief Executive Officer James Harrison said. These include Royal Dutch Shell Plc., Statoil ASA, ConocoPhillips and Apache Corp.
Harrison, who first saw the potential of pairing drones with video-analytic algorithms when he served as a British army officer in Iraq and Afghanistan, said Bristow's investment would allow Sky-Futures to spend less time operating drones itself and more time improving its analytic software. The idea is increasingly to use software automation to help identify potential problems in a rig and provide accurate corrosion forecasts. Currently, Sky-Futures employs human engineering experts to analyze the data its drones gather.
"The idea is to make the entire analysis process as automatic as possible while also providing actionable information with a high degree of confidence to a human engineer," Harrison said.
Sky-Futures will also expand its operations in the Gulf of Mexico, where the company just began conducting inspections last month after obtaining Federal Aviation Administration approval to operate drones in the U.S.
Cost-Effective Inspections
Bristow Group president and CEO Jonathan Baliff said that with global oil prices at historic lows, energy companies are under pressure to reduce costs -- and drones provide more cost-effective inspections. Bristow's tie-up with Sky-Futures would allow it to begin providing clients with such inspections, he said.
Sky-Futures would increasingly look to Bristow to train drone pilots and help deploy the UAVs to off-shore rigs, Harrison said. As part of its investment, Bristow Group will have a seat on the Sky-Futures board. 
Sky-Futures received 2.5 million pounds ($3.6 million) from U.K. venture capital group MMC Ventures and San Francisco drone company Airware's Commercial Drone Fund in May 2015. MMC also increased its investment in Sky-Futures alongside Bristow's investment Tuesday, Harrison said.
Bristow Group's stock tumbled 23 percent to $14.20 at 12:44 p.m. in New York. The company reported third quarter revenue that missed analysts' estimates and slashed its dividend after the close Monday.
Before it's here, it's on the Bloomberg Terminal.
LEARN MORE