VW Trucks Chief Open to IPO, Deals in Expansion Strategy
by
Commercial vehicles business gains more independence at VW

VW pushing for close cooperation between Scania and MAN brands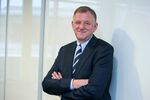 Volkswagen AG's heavy-truck division is exploring options for growth that could include acquisitions and an initial public offering as it seeks to reap the benefits of more independence within its rapidly reorganizing parent company.
Trucks chief Andreas Renschlersaid in an interview that the U.S., the only major market where the unit has no significant presence, and China are among key regions for possible expansion. The strategy would challenge global industry leaders Daimler AG and Volvo AB as well as smaller rivals in emerging markets. Truck models are dramatically different in individual regions, so expansion in the U.S. would probably involve an acquisition. Renschler declined to comment on specific plans or targets.
"We're keeping all options open on our way to becoming a global champion," Renschler said in the interview in Munich. "We want to be industry leaders in terms of profitability, customer-oriented innovations and global presence, not necessarily in terms of sales volume."
Unlike most of its passenger-car siblings, Volkswagen's trucks unit isn't dealing directly with fallout from the diesel-emissions scandal. Still, the crisis besetting the parent company triggered a management revamp and accelerated a push kick-started a year ago to give the automaker's 12 brands more leeway to make their own choices, handing Renschler, who previously held the same post at Daimler, more room to maneuver.
Empire Building
"Shareholders would certainly welcome an IPO of VW's trucks business as the company would start lifting value after decades of empire building" and address investor skepticism regarding conglomerates comprising passenger cars and commercial vehicles, Arndt Ellinghorst, a London-based analyst with Evercore ISI, said in a note. He estimates the combined value of VW's truck assets at about 20 billion euros ($22.3 billion).
The shares fell 2.3 percent to 100.75 euros at 11:04 a.m. in Frankfurt. The company has lost almost 22 billion euros in market value since emissions cheating at its passenger-car units became public on Sept. 18.
North America remains the largest undeveloped territory for the truck holding Volkswagen formed last May to better coordinate MAN, Scania AB and its namesake VW truck and bus brand. By contrast, both Daimler and Volvo enjoy large North American market shares with the Freightliner and Mack nameplates. Still, sales in that market are entering a lull because many trucks on the road were recently replaced. Volvo has revised its outlook and predicted Friday that truck industry deliveries in North America will shrink 7 percent this year. That means belt-tightening for some competitors.
Good Fit
"In the long-term, the North American market is of course interesting for us, but it has to be a good fit for us as well as for a possible partner," Renschler said. He declined to comment on whether Volkswagen would be interested in buying Paccar Inc. or Navistar International Corp., the truckmaker partially owned by billionaire Carl Icahn.
In China, the world's biggest market for heavy-duty trucks, the likelihood of a flat market this year hasn't deterred Volkswagen from growth plans.
"We're pursuing a dual-track strategy in China," Renschler said. Volkswagen is seeking to expand with partner Sinotruk Hong Kong Ltd. in the mass-market segment as well as boosting the higher-end business of selling its own MAN and Scania vehicles.
Volkswagen is also in talks about joint projects with other peers, including China FAW Group Corp.'s commercial vehicles arm. The negotiations with FAW are separate from expansion discussions for a car joint venture the two companies also operate.
Intensifying Cooperation
Renschler took over a few months before the truck holding was created. Hiring one of the industry's most high-profile executives from a rival underscores the sense of urgency at Volkswagen about finally reaping financial benefits from the multi-billion-euro takeovers of MAN and Scania. That means intensifying cooperation between MAN, where a downturn in South America has eaten away at profits and a restructuring program is under way, and the smaller, higher-margin Swedish Scania unit, which has been more resilient to swings in the cyclical truck industry. MAN is cutting about 1,400 administrative jobs and 400 production jobs to lower costs as part of a revamp program to be completed next year. The program also includes a substantial expansion in digital services for truck drivers and logistics operators.
Cooperation will focus on joint procurement, research, business development, finance and personnel. Volkswagen's factory in Salzgitter, Germany, will produce non-driving axles for both brands, and the two independent assembly facilities in Russia will be combined, according to Renschler.
Efficient Alliance
Forging an efficient alliance will play out principally in western Europe, where Scania and MAN have a combined market share of about 30 percent. Cooperation had been hampered in the past by memories of MAN's ill-fated 2006 attempt at a hostile takeover of Scania. Volkswagen opposed the attack, then took control of both companies, buying out Scania's minority shareholders in 2014. Overcoming cultural differences and ensuring collaboration will be crucial for the strategy to pay off. They'll also need to weather some gloom, with Renschler predicting that Brazil, a key South American market, won't turn around before 2018.
"You don't change corporate culture by sitting down and holding each other's hands," Renschler said. "You need to get people to really work together to achieve common results."
Before it's here, it's on the Bloomberg Terminal.
LEARN MORE