Five Things You Need to Know to Start Your Day
Get your week started here.
by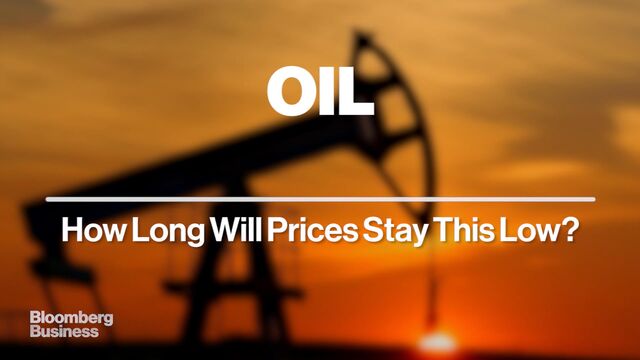 Stocks tumble, oil falls and there's a flight to safety in bonds. Here are some of the things people in markets are talking about today.
Stocks tumble
Stocks in Europe have tumbled to their lowest since 2014 this morning with the Stoxx 600 down 2.2 percent at 10:55 a.m. London time, heading for its sixth day of declines. The MSCI Emerging Markets Index fell 0.5 percent overnight in Asia amid light trading as the Chinese Lunar Holiday begins, with South Korea and Taiwan among the markets that are closed. U.S. futures point to a lower open.
Oil falls
West Texas Intermediate for March delivery was down 74 cents at $30.15 a barrel as of 11:05 a.m. London time, having been as high as $31.34 in earlier trading. The drop in oil comes as the CEO of the world's largest independent oil-trading house, Vitol Group BV, says he expects prices to remain low for a decade. Despite the recent volatility, a record number of investors are piling into the oil market with total wagers on the price of crude climbing to the highest since the U.S. Commodity Futures Trading Commission began tracking the data in 2006.
Safe haven
German sovereign debt is climbing again this morning as investors seek safety, with the 2-year note yield falling to minus .517 percent, a record low. Spreads between German and peripheral euro area debt widened, with the yield on Portuguese 10-year bonds jumping 13 basis points to 3.23 percent, the highest since June. U.S. Treasuries climbed, as that debt continues to outperform other major asset classes this year, despite some of the biggest U.S. bond market bears standing their ground. Data from the Japanese Ministry of Finance showed investors in that country bought a net 13.85 trillion yen ($118.2 billion) in U.S. debt in 2015, a record amount.
Fed negative rates?
If the U.S. economy weakens enough, the Fed may consider pushing rates below zero, according to Bank of America Corp. and JPMorgan Chase & Co. Options on Dec. 2017 eurodollar futures contracts are implying a 13 percent chance of negative rates by the end of next year. With central banks in Japan, the euro area, Sweden, Switzerland, and Denmark showing that negative rates are not hugely disruptive, the Fed will have less to worry about, according to Michael Feroli, JPMorgan's chief U.S. economist in New York. Federal Reserve Chair Janet Yellen is due to start her semiannual testimony to Congress on Wednesday, with investors looking for any hint as to the Fed's rate path.
Ruble hack
Investigators are blaming hackers for a sudden 15 percent move in the ruble-dollar rate in February 2015. The volatility, which lasted 14 minutes and caused the exchange rate to swing between 55 and 66 rubles per dollar, was triggered by hackers deploying a virus known as the Corkow Trojan to infect Kazan-based Energobank and place more than $500 million in orders at non-market rates, said the Moscow-based cyber-security firm hired to investigate the attack.
What we've been reading
This is what's caught our eye over the weekend.
Want to receive this post, and more, into your inbox every morning? Sign up here
Before it's here, it's on the Bloomberg Terminal.
LEARN MORE