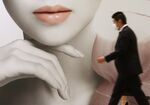 Japanese cosmetics maker Shiseido Co. has lofty goals for its first new domestic plant in 37 years: a 50 percent increase in output with a decline in production costs. And the company plans to do this without adding new workers.
Human workers, that is. Robots are key to achieving Shiseido's production goals at the 40 billion-yen ($340 million) facility with a new distribution center in Osaka. The factory plans to make up to 100 million skin-care products a year while cutting its production costs, said the Tokyo-based company, which will transfer about 900 employees from an existing facility that will close.
The factory, set to start operations in fiscal 2020, is showing how increased automation can help Japan's manufacturing base after years of companies hollowing out plants and seeking less expensive labor abroad. Robots will allow Japanese manufacturers to shave as much as 25 percent off factory labor costs by 2025, according to an analysis by the Boston Consulting Group in 2015.

In other countries, automation often fuels concerns about layoffs, yet Japan's shrinking labor force justifies a move to more robots, according to Hisashi Yamada, an economist at the Japan Research Institute Ltd. in Tokyo.
"Japan doesn't have an extra pool of workers," Yamada said. "Japan will enhance the collaboration of machines and people in the medium and long term."
There's plenty of room to boost worker productivity in Japan. Japan has the lowest productivity among Group of Seven nations. 

South Korea faces a similar situation with its aging workforce.
Shiseido is setting an example for how technology can allow companies to make high-quality products rather than just competing on price, Yamada said.
The benefit for workers doesn't seem as straightforward. Shiseido employees who move to the new factory won't receive a raise because of the higher output capacity, according to the company.
Before it's here, it's on the Bloomberg Terminal.
LEARN MORE