Ruble Drops Third Day as Crude Decline Outweighs Tax Payments
by
Promsvyazbank sees exporters selling FX before tax payments

Russian currency's correlation with crude is close to record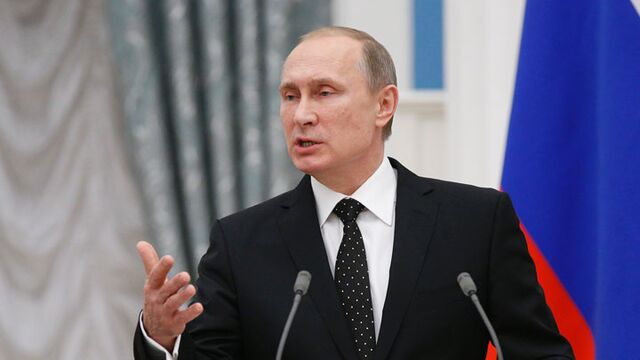 The ruble retreated for a third day as declining oil prices offset support from Russian companies converting foreign revenue to pay local taxes.
The currency went from the best performer in emerging markets to the second-worst as Brent, the oil benchmark used to price Russia's main blend, reversed gains. The correlation between crude and the ruble rose to 0.83, close to a record of 0.86. A reading of one would mean the two assets move in lockstep.
Three-month swings in the currency of the world's biggest energy exporter are the widest after Argentina's peso after the price of its main export fell to a 12-year low last month, darkening the outlook for the budget and threatening to extend Russia's economic contraction. Companies facing a $6.9 billion local-tax bill at the end of the month may support the currency by starting to sell foreign currency this week, according to Promsvyazbank, which had the second-most-accurate ruble forecast for 2015.
"Oil is still the key driving factor," said Piotr Matys, a strategist for emerging-market currencies at Rabobank in London. "Monthly tax payments will have only a short-term impact, or none at all if oil moves sharply."

The ruble fell 1.1 percent to 78.3570 by 7:33 p.m. in Moscow. Government bonds retreated for a second day, lifting the yield on five-year debt by five basis points to 10.40 percent.
"The ruble is riding oil volatility," said Alexei Egorov, an analyst at Moscow-based Promsvyazbank. "There's a ton of speculation in the oil market surrounding possible cooperation to boost the oil prices. The oil market is nervous and that's why the ruble is volatile."
Egorov said he sees the ruble trading between 76 and 78 per dollar this week. In the longer term, should crude stay between $30 and $40 a barrel, the currency will continue to move in a corridor of 75-80 against the greenback, he said.
Budget Shortfall
Brent fell for a third day, trading at $33.82 per barrel in London after Venezuela's tour of crude-producing nations brought no supply agreement. Russia's benchmark stock gauge, the Micex Index, sank 2 percent to 1,744.27. The Market Vectors Russia ETF had $11.93 million inflows on Feb. 5, according to data compiled by Bloomberg.
Even after the ruble's 6 percent drop this year, the currency looks expensive compared with the price of oil. A barrel of Brent in rubles was little changed at 2,642, compared with the average level of 3,165 used to calculate the 2016 budget.
"The current oil price in rubles is way below the level on which the budget is based," Egorov said. "The government will either need to compensate the budget shortfalls with a weaker ruble or by dramatically cutting spending."
Before it's here, it's on the Bloomberg Terminal.
LEARN MORE