Puerto Rico Needs Bankruptcy Access From Congress, Ravitch Says
By
Commonwealth is seeking to reduce its $70 billion of debt

Island must cut its debt, former New York City adviser says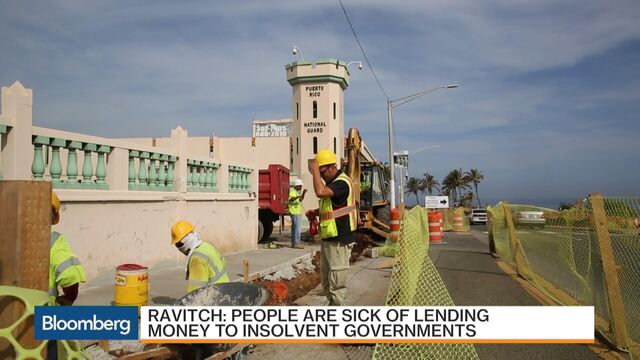 Puerto Rico needs to have broad bankruptcy powers to reduce its $70 billion of debt and revive its economy, Richard Ravitch, an adviser to the governor during New York City's fiscal crisis in the 1970s, said on Bloomberg Television.
The Caribbean island of 3.5 million and its agencies are unable to file for bankruptcy protection, as cities including Detroit have done. Puerto Rico Governor Alejandro Garcia Padilla has been seeking to persuade Congress to give the island some legal ability to restructure its debt to strengthen its hand with creditors.
Ultimately, federal lawmakers will grant Puerto Rico's request, Ravitch, a former New York Lieutenant Governor who's working as an unpaid adviser to the island, said in an interview.
"The risk of social disorder and consequential responsibilities for the federal government will ultimately make all of Congress realize that this has to be done," Ravitch said. He said the plan should include a "federal oversight board insuring that the restructuring plan is fair to the people of Puerto Rico. In the long term of the creditors, it's the only way of solving the problem."
Ravitch sits on the board of Build America Mutual Assurance Co., a municipal bond-insurance company owned by its policyholders. BAM, as the insurer is known, doesn't insure any Puerto Rico debt.
"I have no economic interest whatsoever," Ravitch said. "They're not affected one way or another by what happens in Puerto Rico."