New Hampshire Campaign to End Slippery as Snow Heads North
by
New York might get brushed by two storms through Tuesday

Hundreds of flights grounded as system moves up East Coast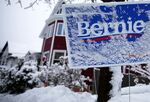 Boston may see near-blizzard conditions as high winds mix with snow from a storm that has grounded hundreds of flights around the U.S., threatens power outages and promises to make the last day of campaigning for the New Hampshire presidential primary slick and icy.
Central and southern New Hampshire, including Manchester and Nashua, could get 5 inches (13 centimeters) of snow, with Boston picking up nearly a foot, according to the National Weather Service. New York may receive 2 inches Monday and more later in the week as it's brushed by two storms, one moving north in the Atlantic and one moving east across the U.S.
"Near-blizzard conditions are possible in Boston," said Steve LaVoie, a meteorologist with Hometown Forecast Services Inc. in Nashua, New Hampshire. Winds picked up to 33 miles (53 kilometers) per hour in the Massachusetts capital, the weather service said.
A winter-weather advisory covers all of New Hampshire on the eve of Tuesday's presidential primary. Advisories also stretch from Maine to New York, including a blizzard warning for the Massachusetts coast just south of Boston, and for Nova Scotia and Newfoundland, posted by Environment Canada.

Across the U.S., 756 flights were canceled as of 12 p.m. New York time, with Boston and New York hardest-hit, according to FlightAware, a Houston-based airline tracking service.
LaVoie said dry air in the atmosphere makes the forecast difficult for New Hampshire.
"It 's going to be a bit of a wild card because there is very dry air north to the system," he said. "It is going to take a while for the atmosphere to moisten up."
In Massachusetts, Boston, as well as many of its suburbs, canceled school. This is the second round of snow for the area since Friday. Two people, including a 6-year-old girl, were killed in Canton, Massachusetts, by falling tree limbs, according to WBZ-TV, Boston's CBS affiliate.
"A lot of branches are weakened from the last storm we had, so we are expecting more power outages," LaVoie said.
The exact amount of snow in Boston may be hard to measure because of the high winds, said Tom Kines, a meteorologist with AccuWeather Inc. in State College, Pennsylvania.
Second System
While New England takes the brunt of an Atlantic storm, which has also produced 20-foot waves off the coast, a second system moving across the central U.S. threatened heavy snow along the Appalachians from Pennsylvania to North Carolina, the weather service said.
New York is at the edge of both systems, so it could get snow for the next few days.
On Monday, 1 to 2 inches are possible in Manhattan and the western boroughs and more than 3 inches in Queens and the eastern side, said Faye Barthold, a weather service meteorologist in Upton, New York.
"Compared to Boston or eastern portions of Long Island, it will relatively brush the city with a few inches of snow," Barthold said.
Tomorrow's Storm
There is a chance New York could get 1 to 3 inches Tuesday from the second storm, she said.
For Monday, New York has probably received the bulk of its snow for the day, Kines said at about noon.
"They aren't going to get much more than that," Kines said. "New York City is on the fringes, literally. It goes from snowing to nothing over the course of a couple miles."
Snow from that system may also drop 5 to 6 inches across eastern Maryland and parts of Delaware, Pennsylvania and New Jersey, including Philadelphia and Baltimore. Washington is forecast to get 2 inches through Tuesday, the weather service said.
After this week's storminess clears out, the eastern U.S. should get prepared for frigid temperatures, Kines said.
"This air mass coming down Friday and over the weekend means business," Kines said. "I think there are going to be spots in New England that don't get above zero for a high."
The cold will cover New York, Washington and reach into the Southeast.
"If you got to be outside this weekend be prepared," Kines said. He joked that because Valentine's Day comes on Sunday, it may just be "hug your honey weekend" to stay warm.
Before it's here, it's on the Bloomberg Terminal.
LEARN MORE