Does Netanyahu Want a Fox News for Israel?
By
Analysts say Netanyahu seeks TV news with like-minded views

Israel PM has had rocky relationship with press since 1990s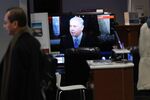 Prime Minister Benjamin Netanyahu's drive to revolutionize Israel's television market with more competition has some people wondering whether he has ulterior motives.
As the government proposes easing regulation of news programming and ending costly concessions, some analysts say he wants to break the grip of the country's major networks and open the playing field to broadcasters with views closer to his own.
"Netanyahu wants to bring in the equivalent of Fox News to Israel," said Tehilla Shwartz Altshuler, head of media reform at Israel Democracy Institute, a research center.  "He wants to revolutionize this space, which has been mainly left-wing."
Source: Naftali Bennett/YouTube
Netanyahu views competition as a fitting remedy to many economic problems, so opening the TV market is in keeping with his world view. At the same time, senior government and communications industry officials say he realizes the move could weaken media adversaries and allow channels more sympathetic to his political views -- and those of many in the country -- to emerge. 
The push comes at a time when the government is promoting other legislation that critics say is intended to muzzle dissent.
While Netanyahu has historically championed greater competition in a variety of domains, "it is clear he has very strong reservations about the news departments of Channel 10 and Channel 2," said Eytan Gilboa, director of the center for international communications at Bar-Ilan University. "And so his motivation could be indeed to open the market for new actors, but his personal motivation cannot be dismissed."

A government official, speaking on condition of anonymity, said it was clear to Netanyahu that by paving the way for competition, he opens the news market to a channel that's waiting to add a more right-wing voice than what is currently on the air. The official spoke on condition of anonymity because he wasn't authorized to speak on the record.
Channel 20, described by the settler-sponsored Israel National News website as "associated with a nationalistic spirit that is quite different from the leftist slant that typifies" the main commercial 
stations, has already asked to add news broadcasts to its lineup.
Netanyahu's office referred queries about the proposal to the Communications Ministry.
The plan is designed to encourage competition by bringing in new players, reducing regulation and stabilizing broadcasters financially, the ministry said in an e-mailed reply to questions. "There is no connection between the committee's recommendations and the media coverage of the prime minister," according to the reply.
Not Representative

Adding other voices is a legitimate move, especially given the current political climate, Shwartz Altshuler said.
"You can't really say there is a right-wing media outlet on television these days, and this at a time when much of the mainstream public is on the right," she said. "Israel's broadcast media hasn't reflected mainstream public opinion for a long time. So there is a lot of justice in the claim that there needs to be a news channel that should present right-wing opinions as well."
Netanyahu's detractors see the plan as part of a broader package of government measures designed to stifle opposing views. On Monday, parliament gave initial approval to a bill that would have non-governmental organizations declare their sources of financial support. Critics, including the U.S., perceive the proposal as an attempt to undercut left-wing organizations that rely on foreign government donations. Culture Minister Miri Regev is promoting a separate bill that would withhold government funding from projects deemed disloyal to the state.
The prime minister's rocky relations with the press date back to his first term in the late 1990s. His government threatened to shut down Channel 10 in the past over royalties owed, and he's filed and withdrawn lawsuits against it over unflattering reports, the Ha'aretz newspaper reported. He's dismantling and rebuilding the public broadcasting station that was the country's sole channel for three decades, and has sparred with the Yediot Ahronot newspaper, owned by a wealthy Israeli family.

A powerful backer, U.S. casino mogul Sheldon Adelson, broke the Israeli print media mold by financing a free handout, Israel Hayom, that's sympathetic to the government's views. In the process, he's hurt the finances of the longstanding Maariv and Yediot Ahronot dailies. Industry figures say Netanyahu is similarly trying to shake up broadcast media. 
"The rationale is to weaken the current players. The government believes they accumulated too much power, and have a very specific orientation," said Moti Sklar, chairman of Channel 20, which offers Jewish heritage shows and other non-news programming.
"The idea is that society has changed and that group doesn't necessarily represent them," said Sklar, a former director-general of state-run Israel Broadcast Authority. "The idea of this reform is to introduce pluralism to the media."
Channel 2 news is the choice of about half of all viewers, while Channel 10 attracts 10 percent and state-run Channel 1, about 8 percent, according to Shwartz Altshuler.
Viability Questioned
On paper, added competition is a good idea because there are only two private television stations and two cable companies, Gilboa said. Programming will become more diverse, and prices to consumers may come down, he said. What's not clear is whether Israel, with a population of about 8.5 million, can support additional players, given a TV advertising pot of about $1 billion, he said.
That may not be Netanyahu's chief worry. What's important to him, analysts say, is to shake up the news industry.
"Netanyahu feels he's been hurt by an unfair and biased media," Shwartz Altshuler said. "He broke print journalism's business model. Now he wants to break the monopoly on TV."