Italy's Debt Decline Key to Changing Markets' View, Padoan Says
John Micklethwait, Lorenzo Totaro and John Follain
Real growth, `a bit more inflation' needed to lower debt ratio

Finance chief signals domestic solution for Monte dei Paschi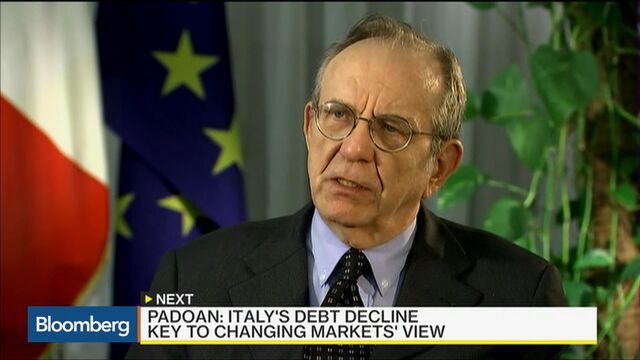 The expected decline of Italy's public debt this year will mark a turnaround for the euro region's third-biggest economy, changing financial markets' skeptical view of the country, Finance Minister Pier Carlo Padoan said.
"Given real growth and possibly given a bit more inflation, that is beyond our control of course, we will see dynamics of the debt accelerating downwards," Padoan said in an interview with Bloomberg in Rome on Monday. "This will change the perception of the markets."
Padoan and Prime Minister Matteo Renzi have implemented growth-friendly policies and reined in public spending to reduce Italy's public debt, which rose to 2.21 trillion euros ($2.47 trillion) in November, the euro region's second-biggest after Greece when measured against gross domestic product. They also plan sales of state-owned assets totaling an annual 0.5 percent of GDP.
The debt will fall to 132.4 percent of GDP this year from 132.8 percent in 2015, the European Commission said in its winter forecasts on Feb. 4. That would be the first decline after eight years of growth in the debt-GDP ratio.
The Commission testified to "the fact that we are seeing a lower debt-to-GDP ratio in 2016," said Padoan, 66, a former chief economist at the Organization for Economic Cooperation and Development who was chosen almost two years ago by Renzi as Italy's finance minister.
Widening Spread
Reflecting concerns about the euro region's higher-debt nations, the yield difference, or spread, between Italy's 10-year bonds and German bunds increased 20 basis points on Monday to 146 basis points. Earlier in the day, it reached 150 basis points, the widest since July. The spread was at 147.6 basis points as of 10:48 a.m. Rome time on Tuesday.
The shield provided by the European Central Bank's bond-buying program, which is set to last until at least March 2017 ensures Italy's bond yields stay close to all-time lows and that government borrowing costs are reduced.
"Inflation in the euro area has to go as quickly as possible towards what is considered by everybody the equilibrium value which is about 2 percent," Padoan said in the interview. "We are very far from there. The ECB is doing a great job. My view is that it should continue to do so."
Banking System
The ECB's so-called quantitative easing also protected Italy's bonds from the country's recent banking woes.
Padoan added that countries should do their best "to facilitate the transmission of QE towards the economy which in the case of Italy includes dealing with the banking system."
Italian banks' gross bad loans rose 9.4 percent in December from a year earlier to 200.9 billion euros, the Bank of Italy said on Tuesday.
Most of the bad loans are to companies, from industrial outfits to builders and services firms, which accrued during Italy's longest recession on record, starting in mid-2011 and ended in the last quarter of 2014.
Padoan indicated that a domestic solution would be found for Banca Monte dei Paschi di Siena SpA, the country's third-biggest bank by assets, which is seeking to restore profitability. After tapping investors for funds to replenish capital, Paschi has been seeking a buyer under pressure from the ECB.
'Strong Fundamentals'
"Monte dei Paschi has strong fundamentals and of course a significant amount of non-performing loans, so I am confident that a solution will be found also with the help of the instruments that the government has produced and put in place," Padoan said. "The Italian banking system can take advantage of situations like Monte dei Paschi's."
Paschi shares have lost more than 55 percent of their value this year as investors grew more concerned about Italian lenders' credit quality. That also reduced the value of the bank's 4 percent stake owned by the Italian state.
Padoan said the government would soon disclose new measures which would speed up the non-performing loan market, following a deal Italy and the Brussels-based EU Commission reached last month on a plan to let the country's lenders offload soured loans.
"Now the markets are worried. We must come back with transparency, transparency, transparency," Premier Renzi said separately in an interview in Rome on Monday. "The banks of the future will have less retail and be more innovative -- I am confident that government measures on banks will be a signal to the markets."
Before it's here, it's on the Bloomberg Terminal.
LEARN MORE